Apple, Microsoft, Sony, and thousands of small and mid-sized companies' managers understand that product launch must be done properly to get market share, corner competitors and bring growth.
Customers are impatient, they expect new features, enhancements, and continuously expecting powerful value, which they are ready to pay for (either with money or data). At the same time, 95% of products fail because companies are mostly busy with building features, and they don't develop a product launch strategy.
Figuring out and mastering a go-to-market approach is no trivial task — it separates the organizations that will be prosperous and sustainable from those that won't.
Products developed in isolation from their potential customers often fail and crash when they come in contact with the real world of customers' expectations. A great product launch formula prevents this collapse by shifting the focus from the product to the customers.
The best product launch strategy needs to answer specific questions.
What are the trends, which need to be taken into consideration while launching products or services?
What is the landscape which needs to be considered?
How to make sure that the product launch steps are customer-centric, and the product reflects customers' requests?
How to control the process before making the product accessible to the broad market?
How to measure a new product/service performance?
The process intersects with many aspects, including value proposition discovery, product design and development, positioning, customer discovery, and market partition, as well as growth track.
Let me share a short definition of what is product launch:
The product launch formula is focused on what offerings and how the firm will put the offerings into the market to reach growth – Arek Skuza
As you notice, I didn't say "revenue or profit". Let me explain why I think the goal of the launching process is not always revenue.
There are successful business models (products, services, or microservices) that generate referrals, data streams, traffic redirection, which bring a lot of growth, and it's not strictly revenue.
For instance:
LaunchRock (acquired by Fundable), helped startups to build traffic and send it to their landing pages. LaunchRock figured out how to redirect traffic (generate traffic for others and itself) and was free (LaunchRock captures a lot of data, the same as Google Maps – it's free, but we share a lot of data which is monetized by Google).
Another example is Amazon, which launches "Shop Style" microservice in its app. It's a sophisticated image and pattern recognition based feature, which is available for free, but it brings growth (retention) to the company. End-users have another reason to use the Amazon app more frequently (growth).
Every product manager and product development manager wants to maximize the chances of a product and wants to bring growth (acquisition, activation, retention, referrals, or revenue).
In our company, we have developed the process which I am more than happy to share in this post and resolve the details in future posts. It will help you to start and conduct the customer-centric, systemized, trackable process of building your unique product launch strategy.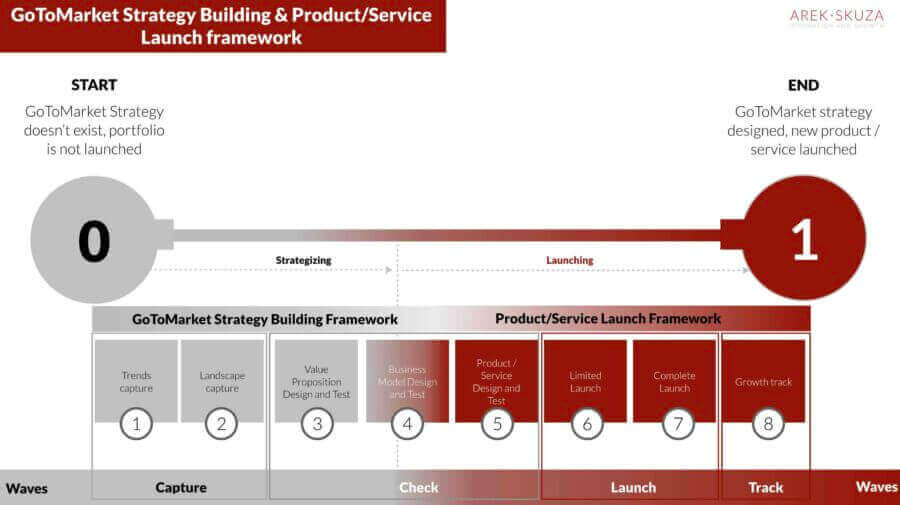 The framework consists of 8 steps, which are driving the effort towards figuring out the most compelling go-to-market strategy as well as launching a new product or service eventually. It helps to answer the question of what is product launch strategy and how to design one.
Please note that the grey color represents strategy building steps; the cayenne color represents product launch phases. I believe that separate those two is impossible, as the best strategies are built with customers as well as products and services.
Designing and implementing a powerful strategy requires going out of the office, co-creating the strategy with customers, and embedding extensive feedback into strategy assumptions. It's a healthy root system for performing product.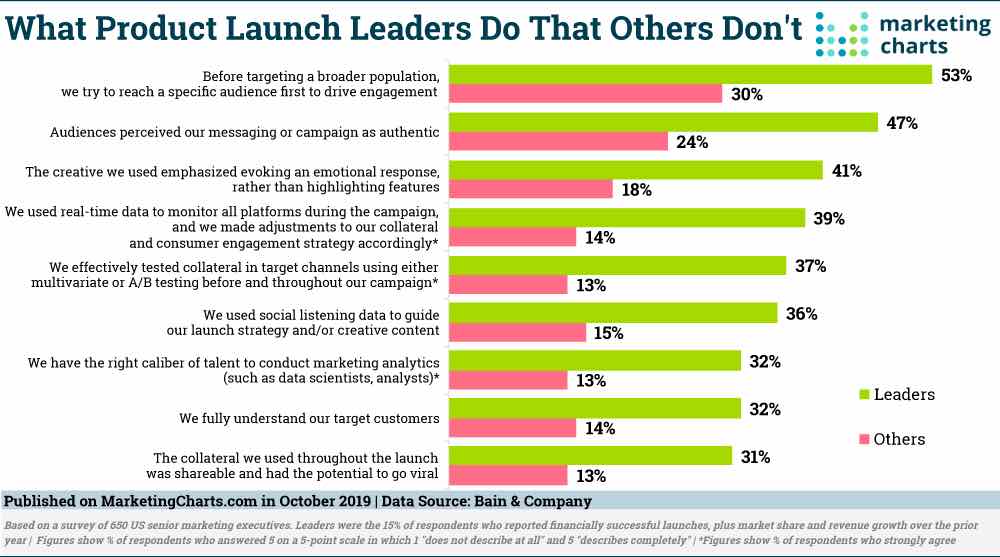 Eight steps, of a product launch formula.
Step 1 – Trends capture – the phase consists of a series of activities that focus on understanding the market trends.
Step 2 – Landscape capture – product managers need to have a full understanding of what happens in the landscape in which a new product or service will be launched. The landscape is more than only the competitors' scan.
Step 3 – Value Proposition (VP) design and test – customers and end-users expect powerful value proposition, not features. Step 3 answered the question of how to find a compelling value proposition (what customers' pains should be removed, what benefits should be delivered and how, what is the niche which will be served by VP), and make sure (test VP) will resonate.
Step 4 – Business model design and test – it's the first step when strategy mixes with a product launch steps. Go-to-market strategy guidelines are in place, and the strategy can be executed. At this stage, product launch focuses on designing and testing the business model (growth streams, cost structure, distribution, resources).
Step 5 – Product/service design and test – at this stage working prototype is available. It can be exposed to customers via various experiments.
Step 6 – Limited launch – after value proposition, business model, and product/service tests, it's high time for controlled launch. Product managers distribute products or services to a closed group of end-users in a strictly controlled way.
Step 7 – Complete launch – Step 6 provided technical and business feedback; now it's a time for a real launch.
Step 8 – Product managers control the new product performance by applying various metrics. It's a step that protects the company assets by shutting down quickly offerings that don't work.
Subscribe to my newsletter and get all-in-one
[super_form id="1271″]
Conclusion
Of course, no process will guarantee market victory, but, as the compass needle moves, product launch needs to be calculable and trackable. Then, it gives managers an opportunity to learn from market reactions and pivot responsibly.
WOULD YOU LIKE AREK TO WORK WITH YOUR ORGANIZATION?
[super_form id="1208″]