Welcome to the first step in the eight steps framework designed to help you build a robust go-to-market strategy and launch new products effectively.
A market trend review is an analysis of past and current market performance and dominant patterns of the market and consumers. An essential aspect of carrying a trend analysis for a business is to gain insights into the market scenarios, consumer/customer preferences, and macroeconomic conditions.
Trends capture provides a 360 perspective of the external circumstances that affect product launch and management. While defining future objectives for a product or service, trend capture is used as a basis on which future go to market strategy assumptions are designed. Market trend capture involves getting four puzzles together:
Puzzle 1: Understand trends in consumer needs (value propositions shift and expectations)—A firm that can identify a particular pattern in switching consumer needs and preferences may be able to cater to these needs and build a go-to-market strategy which will drive more growth or faster growth (quicker market-fit)
Example: Currently, consumers are expecting more information regarding food and beverages. It's a megatrend which builds smaller waves like:
Increasing Consumer Demand For Transparency – Consumers expect to learn quickly and understand what ingredients are going into the products, which is why we see so many innovative products with shorter ingredient lists that you can pronounce.
Increase in consumer desire for Plant-Based Food – As consumer needs immediately evolve, food and beverage companies must re-invent the way fresh, plant-based foods are grown, prepared, delivered, and ultimately served to the table.
Health and Wellness as one of the highest priorities – Consumers become more educated on the benefits of healthier choices.
Puzzle 2: Shifts in Consumer Perception of Value are dynamic, and it necessary to track the real-time —Trend capture involves an analysis of consumer expectations and positioning of the new or existing product or service in the consumers' minds.
Specific features of a product or service, which would, at one point in time, have contributed to the consumer's perception, may later miss value if the competition reacts to it in some way.
For example, if insurance company X has started chatbot customer service on the website and it's the only one automated way of providing free assistance on the market, it holds a better perception in the clients' minds due to this compelling value proposition. However, if competitors start offering the same or better chatbots, the value perception for Insurer X would quickly decrease.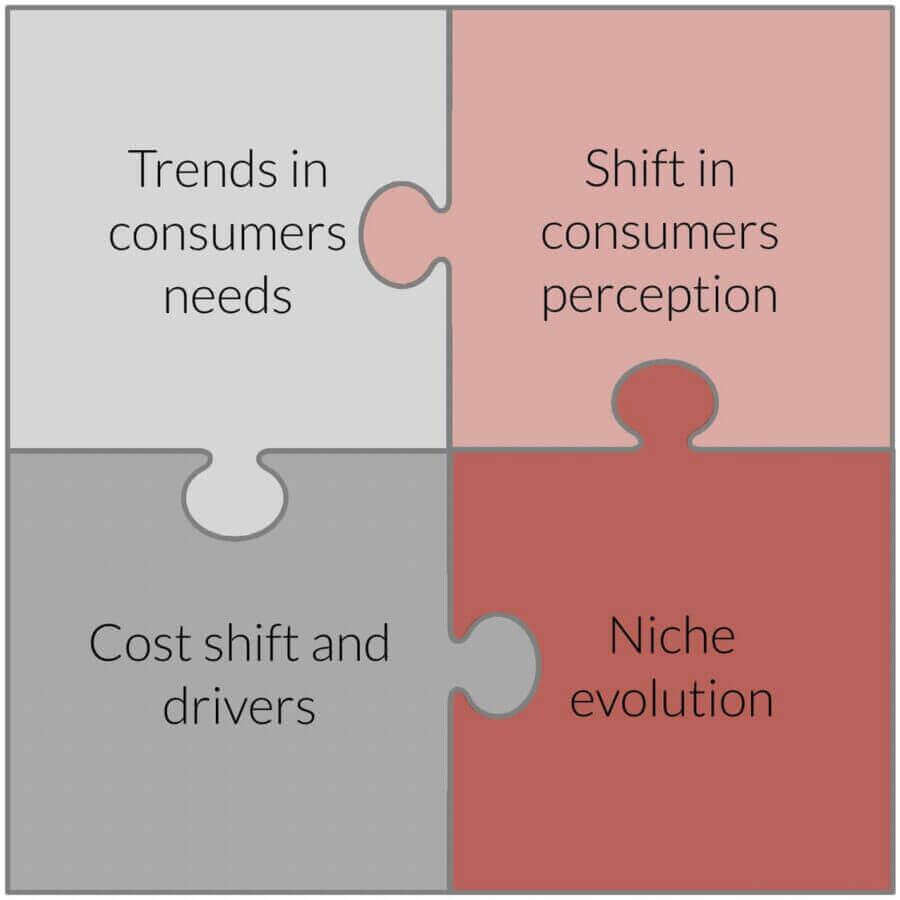 Puzzle 3: Capture the cost drivers which trends are providing —Businesses need to be aware of changes in the composition of the cost drivers and also innovations that lead to lower-cost alternatives. Companies that can find better cost options (doesn't mean cheaper), which are more economical or offer a better value proposition, can gain a competitive advantage and achieve higher objectives. For instance, Tesla launches cars that provide a compelling value proposition (autonomous, part-autonomous, full electric, modern design, powerful software, screen technology), and the price is very reasonable. Xiaomi developed a line of cheaper products, which offer almost the same set of features as Apple or Samsung. Buffer or News+ provides a fantastic collection of features for a lower price, easy to unsubscribe with the money-back guarantee.
Puzzle 4: Grasp and track change and evolution of the niche— For building effective product launch strategies, companies should continuously capture trends in the following sections:
product innovations which happen in the environment (check my article about it),
new products launch (f.i., Craiglist new app launch, click here to read The Verge article),
new product features provided by competitors (f.i. EarPods from Apple with the powerfull noise-canceling influence Bose business a lot),
unique operation and delivery methods (for instance games available on TVs not only on consoles are reshaping the market and Amazon cloud accelerate the change).
Such analysis helps to prepare better, more effective go-to-market strategies because business stays ahead of the curve to understand changing market trends and project market launch objectives accordingly.
Schedule, 30 minutes, complimentary call with me if you would like to discuss your go-to-market strategy, product roadmap as well as your product launch process.
Curious what trends capture presentation/visualization looks like? Please find links to a few McKinsey and BCG presentations which are publicly available online, and you can get a flavor of comprehensive market trends to capture approach. I selected the ones which are a few years old, have a holistic approach and cover all four puzzles.
Future of Finance by McKinsey (link)
Insurance trends and growth opportunities for Poland by McKinsey (link)
State of the luxury – market, and trends by BCG (link)
A couple of observations:
In true data-driven style, there is a lot of analysis and data before the go-to-market strategy is crafted
Frameworks simplify the complex trends capturing process: timelines, value chain, charts, maturity models, specific competitors offerings and products' features
Use of extensive surveys (n=20K+) to create the voice of customer data