My trainings provide valuable insights and practical knowledge on transforming data into a strategic asset, harnessing AI's power, and leveraging cutting-edge technologies to drive business growth.Designed for professionals from various backgrounds and industries, our trainings equip participants with the knowledge and tools to unlock untapped potential within their organizations.Join me for these engaging and practical training programs – together we will:
Explore the stages of the data journey,
Establish the foundations for successful data monetization,
Delve into various strategies and considerations,
Focus on harnessing the power of AI to increase efficiency and drive success.
Join me for these engaging and practical training programs that provide a solid foundation for understanding and implementing data monetization and AI. Whether you are a business professional or a technology enthusiast, our trainings will empower you to unlock new opportunities, foster innovation, and drive your organization toward its ultimate goals.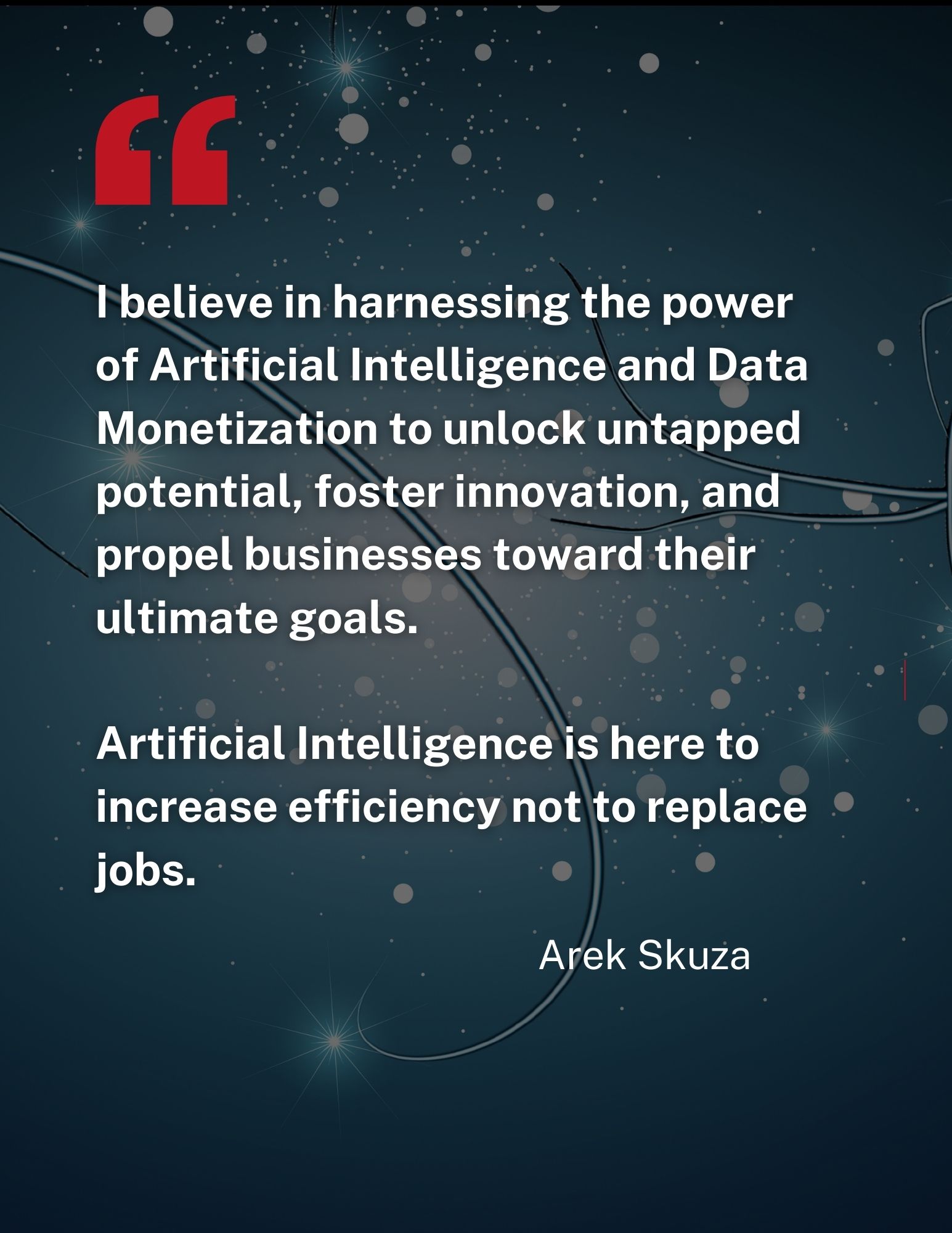 Get the Brochure and Learn More
Arek is an extraordinary man, full of passion, which he spreads to my Executive MBA students.
I knew that the choice of Arek as a lecturer in the Executive MBA Program was a good one, but I didn't think it would be so good. As a lecturer, Arek is characterized by extraordinary professionalism, the ability to combine the worlds of corporate and small business, and incredible energy, which makes his classes always well received by the students and inspires them.
So good to have you in our Executive MBA Family, Arek!
Director Executive MBA Poznań-Atlanta
Arek conducted the keynote speech for our employees in a very engaging and creative way. He was great at adding value by introducing our teams to artificial intelligence and its influence on business performance. What stands out about Arek is that he shares case studies, straightforwardly explains complex issues, and adapts his speech to our group's and the individuals within the group's needs.
Lukasz Wala, Grupa Maspex
We are always looking for professional speakers to enrich the UT Dallas students' campus experience. I connected with Arek Skuza a few months ago & he readily agreed to come and give a speech on introducing AI into products. He is a passionate speaker & he is great at explaining complex stuff in simple ways so that an audience with varying level of knowledge can benefit from his talk! After Corona virus saga began, UTD extended the spring break & moved everything online, I arranged Spring Break Online Conference in a hurry to fill the free days for students & reached out to professionals – Arek jumped in right away & he was 'kind enough' to give a presentation in short notice, in spite of his busy schedule. He is pleasant & sincere to work with – I am confident that he can make your AI projects happen! I recommend him strongly.
Jey Veerasamy, University of Texas at Dallas
Arek spoke to the TechFW community of entrepreneurs about the ways to build a business model of startups to pin point the pains within a larger corporation, thus increasing the impact of the two by working together. He was well spoken, energetic, and very knowledgeable. It was a phenomenal presentation and everyone had great takeaways.
Devan Peplow, Founder of Prep & Pep
Arek has exceptional business innovation experience combined with solid business development skills. He helped us to launch a business services line and grow it from zero to 7 digit revenue business by leveraging business model innovation and fast go to market approach.
I would always recommend Arek to any managers in need of market testing and launching services or products to catch new revenue opportunities. Another value of Arek's work is that he is metrics-driven and always keen to verify if the innovation helps customers to solve painful problems.
Łukasz Lewandowski, CEO at PerfectBot.AI