The hype around artificial intelligence (AI) has led to lots of jargon making the technology difficult to understand in product development.
I have asked myself?
What are the elements which product development should cover in the process of building great AI-powered products?
I will answer the question by exploring the elements of the AI technology development process.
Introduction to three levels of AI product design and development?
Products require tough decisions and a data-driven approach, though the method for making these decisions can diversify. For instance, machines or humans can make the decisions, and the data behind the process can be static or dynamic.
A focus on decision-making removes away the complexities of specific methodologies or the noise of industry jargon. This more general definition helps managers to be more attentive to the challenge space. It removes distractions that can lead product managers to think about solutions too early in the product development process.
Company managers must fully understand the problem. It will make possible to define specifications, align the team of engineers, researchers, and programmers accurately.
Let's start quickly with what product managers' responsibilities are:
Managing product journey from concept to design through:

prototyping,
testing,
forecasting,
scaling,
landing the end of the product life.

Delivering product roadmap which is mostly about setting up a product vision, aligning it with the organization strategy, and break down the vision to strategic elements. Afterward, a road to building and delegating a clear task is smoot and unblocked.
Meeting or pivoting growth objectives, including:

market share, revenue, profit, and return on investment for all the channels/categories of business and key customers.
So, where is artificial intelligence in all of that?
If we look at AI as the problem-solving machine, it'll bring a lot to the product manager's job. But first, please let me introduce you to three levels of product managers' journey.
Product managers need to build and execute with the vision in their minds (roadmap requires it). Then, the strategy comes and asks for attention. A strategy is about doing the right things.
Nokia did the right job and pivoted from the rubber company to a cell phone company. At the same time, Microsoft did not do the right thing (tactic) by acquiring Nokia and ignoring iPhones keyless keyboard.
Product managers need to operate 24/7 on the following levels, but AI sits only on one of them:
The vision which is a True North
Strategy – what is the right thing I need to do
Tactic – how to deliver the right thing (project plan level)
Artificial intelligence sits on the tactic level in the product development process. It is designed by its nature to solve specific, well defined, data backed up, problems. Shipping AI-powered products or services without an end goal usually brings no value to end-users.
Examples of powerful AI in use
The Utah-based company, Hire-Vue, began using AI in 2014 as a way to help companies sort through video interviews. The team defined a great problem to solve, how to select candidates leveraging video data.
HireVue believes it can be helpful for processing a huge number of people through the interview process quickly and reviewing the video in a consistent way.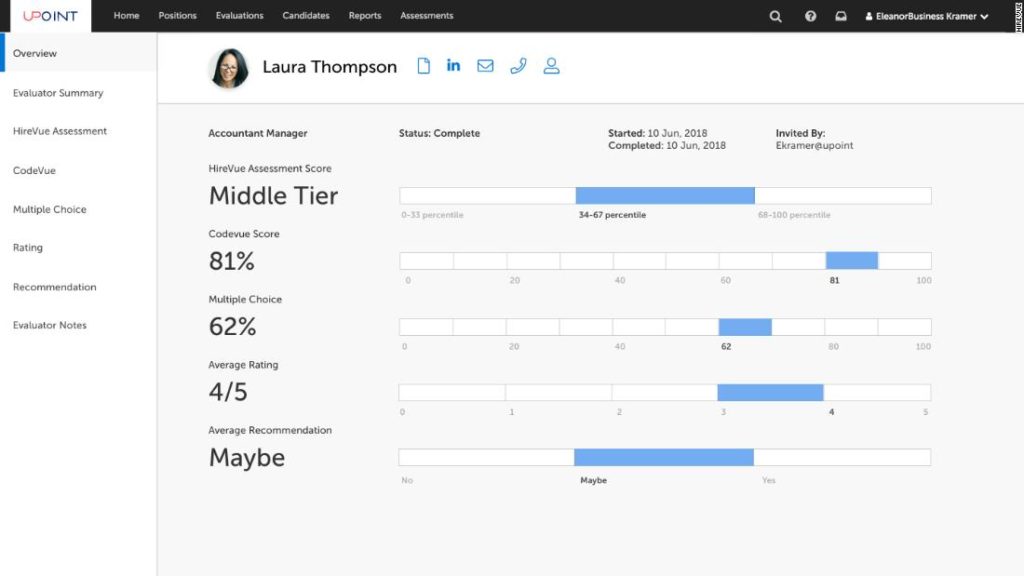 Another good example is AirBnB. The company has developed technology that looks at guests' online "personalities". When they book a stay, AI technology scores the risk of guests trashing a host's home. AirBnB technology searches for fake accounts, users who publish alcohol or sex video, etc.
These two examples show a clear problem and the delivered solution. It is a tactic level, which connected to strategy, influences the change the most!
Reach out to Skuza Consulting for thoughtful product strategy and development services.
What are the AI technology managers' tasks?
The widespread discussion on matters like automation has raised some interesting issues about the future of work.
Typical examples that illustrate this point could be self-driving cars, the car-sharing industry, as well as outsourcing business.
Regarding the automotive industry. Autonomous capabilities for vehicles are classified into five categories. Only the highest class consists of fully autonomous cars in every condition). It means that not every car can go without a driver.
The car-sharing industry can lower the demand for cars, which will influence the job market.
The cybersecurity industry will create numerous jobs because those shared cars need to be safe and reliable.
In the outsourcing business, automation can replace manual tasks, and increase productivity level. The important thing is that automation requires a clear, well-labeled data set that will teach the AI. If the data is messy, the automation is not possible.
What Product Managers can do, to accelerate the adoption of AI in a product development?
Human beings need to teach AI how to automate a job. It creates space for people's development by eliminating not tasks. Product managers can help develop professional skills if they find ways of training AI faster.
Business managers need to recognize that high-performing AI ecosystems need a sizable dataset to get started. A high-quality dataset should have a properly structured data, great volume, and machine-friendly structure. Call this a product manager duty. Ideally, the dataset should also have well-defined notions of success and failure, where past outcomes are predictive of future results.
There is another critical factor. Only people can understand the real world and transform the observations to structured rules. American computer architect Frederick Brooks communicated in the book The Mythical Man-Month. He explained, in spite of the progress brought by AI, it does not have the human faculty of understanding, this is why Artificial Intelligence can't write software. The future of software is in product managers' hands as well.
So. AI needs people to solve problems, and this is excellent news!
Tech giants understand the three levels of artificial intelligence product development
AI can easily automate operational processes, which are time-wasters or manual activities today.
For instance, customer touchpoints and communications can be optimized based on data to increase conversion or reduce churn. One of the most common examples is a repeatable and standardized questions list, called FAQ. The list is simple for AI to understand; the best answers, output, are known already. Then, AI serves as an advanced business intelligence engine because it accelerates productivity and effectiveness for clients.
AI can significantly improve the user experience of products, and services.
Please find four examples below. The table presents examples of how Dell, Zappos, and Google leveraged AI to create higher-value experiences for their customers: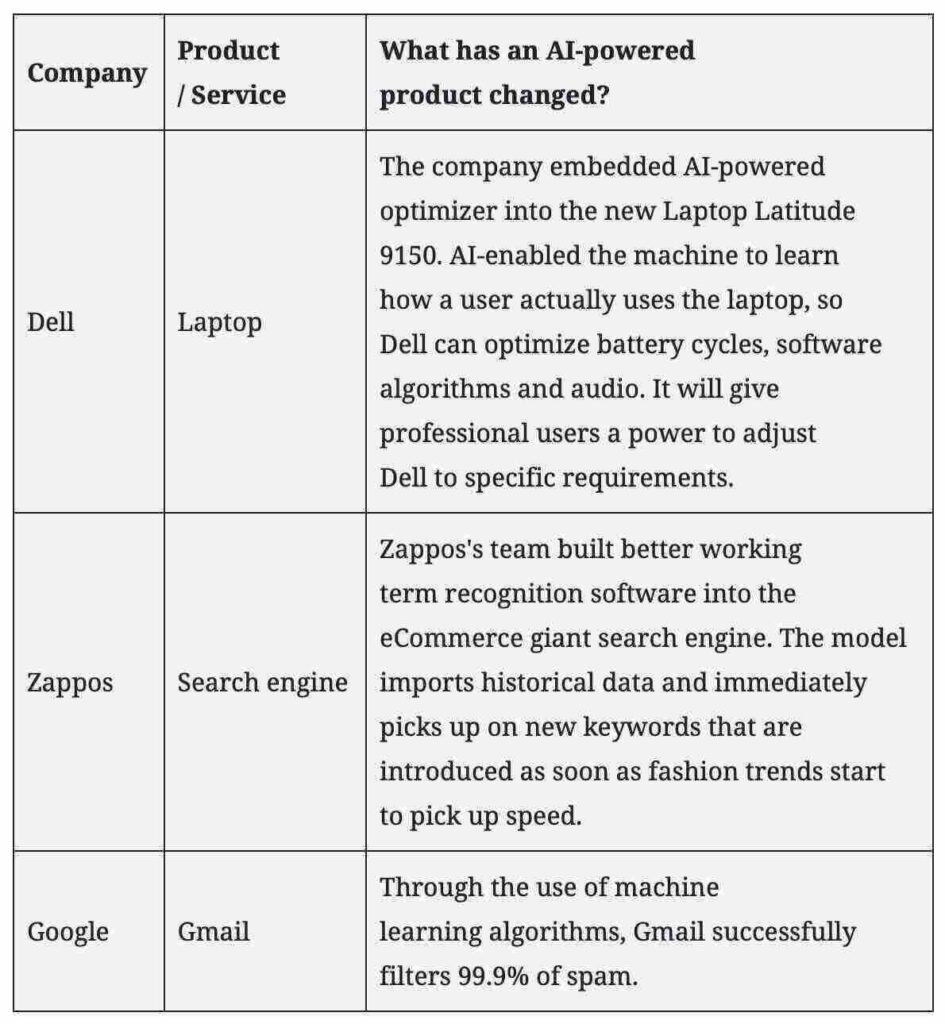 Conclusion
To sum up, here are six ground rules which help product managers in artificial intelligence product development process:
Consider AI as the broad term, and it will help you to focus on problem-solving rather than the end solution.
AI technology is tactic oriented. It should be implemented to solve well-defined problems. Artificial Intelligence is not a strategy, although it should support it.
AI drives impact on the product roadmap in three ways: automate processes, improve product experiences, and create new products.
AI "needs" managers as it can't understand the real world and transform the observations to structured data sets.
If your firm needs help in reviewing or designing a product roadmap. If you are working on developing a product strategy, reach out to Arek and schedule a complimentary consultation.
Related: 16 AI-powered tools for Product Managers to include in the toolbox