Open Innovation has been widely embraced in organizations across the world. It has proven its effectiveness in the US and Europe, as well. Many cases of it being used efficiently by businesses like P&G, Lego, Samsung, GE, Tata Group, Marico, Philips, and BlaBlaCar. On the other hand, there are still firms that are yet to embrace Open Innovation or are unable to extract value from it.
The promise of Open Innovation
Time savings: reduction of time-to-market via Open Innovation.
The time of product development from the first sketches to market launch and product-market fit is critical due to shorter life cycles of products and services and fierce market competition. Open Innovation can cut the development timeline by engaging partners into innovation and sharing the workload with them.
For example, UPS has developed an innovative service in cooperation with the Matternet company ($25.5 million funded startup which attracted investors like Andreessen Horowitz, Sony Innovation Fund, and Swiss Post). Matternet will help UPS to develop the delivery service of medical samples. In this way, the development time is reduced by ~40% compared to internal projects. Besides, such partnerships let businesses to react more promptly and flexibly to market requirements.
Open Innovation is the purposive use of inflows and outflows of knowledge to accelerate internal innovation and assumes that firms can and should use external ideas as well as internal ideas, and internal and external paths to market as they look to advance their technology" – Chesbrough (2006).
Cost savings: reduction of cost-to-market
Globalization and price pressure forced companies to reduce the costs of the innovation from the ideation phase to market launch. Companies can't build innovations without considering the final price. Moreover, there are reductions in research and development budgets because to launch successful products, and the company needs to runs several different innovative experiments at the same time to increase the home run chances. Open Innovation helps to divide work between many parties but also tackle specific challenges differently because of trying different ways of working. DeWalt, American brand, which is a trade name of Black and Decker, asked 8000 professionalists and 4000 consumers to help them tackle dozen of products' inefficiencies. DeWalt calculated that by running Open Innovation, it saved $6mln in R&D spendings.
Open Innovation brings more novelty to current or new customer segments than Close Innovation.
Another primary advantage of Open Innovation is the novelty factor. In product innovations, in particular, the degree of innovation is often at a low level because mostly, companies introduce incremental innovations. Because of risk-averse, siloed structures, slow execution existing products are only developed further from the traditional innovation process without creating a lot of added value. If innovation is born with the engagement of users and other external parties, it introduces disruptive ideas and launches completely new functionalities, which leads to new market creation.
A great example could be kite surfing. It was born out of the need of surfers (end-users) for more robust and further jumps. Surfers began to experiment with homemade combinations of surfboards (DeWalt, which I mentioned above, explored the same mechanism in the tools industry in searching for ideas and concepts) and hang-glider sails and uncovered an entirely new kind of sport. Kite surfing was not developed in the classic R&D departments. Without end-users, experimentation, and a unique design process, it will never be introduced to markets.
Players which brings value to Open Innovation strategy
An Open Innovation strategy aims to redefine the barriers between the company and its environment, making the firm more penetrable and installed in networks of different actors (we defined eight leading players who are described at the Chart 1 below), collectively and individually working towards creating and commercializing new knowledge.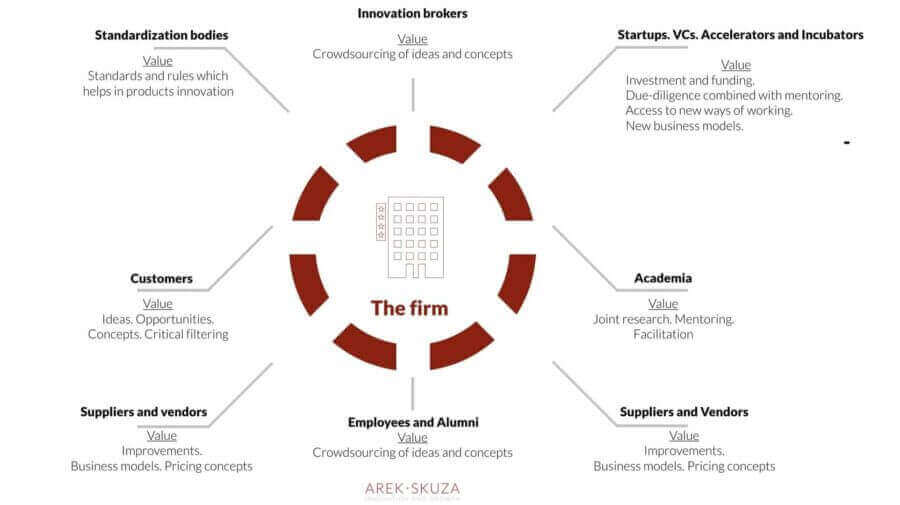 Essential steps to conduct Open Innovation
Step 1: Evaluplayer'scurrent state of existing and running Open Innovation activities::
Evaluate the size of the existing players' network
Estimate the level of influence that external parties have on the growth
Step 2: Develop goals for the desired stage of Open Innovation:
Analyze tradeoffs and partnership models
Align with the firm's strategic goals and strategy as well as available resources
Identify leadership and internal governance model configuration (without senior-level engagement, Open Innovation is almost impossible to execute)
Establish culture and incentive structures by which employees, suppliers, and vendors, customers are encouraged to participate in the innovation process
Step 3: Conduct a gap analysis and develop a roadmap as well as a timeline:
People and partners – Determine talent requirements and identify internal and external parties for meeting the gap
Process – catalog the current processes and networks and determine which are missing and check which parties can improve them (for instance, Standardization bodies, Chart 1, can help to fill the processes gap)
Technology – Update/implement IT systems to allow secure knowledge-sharing across a different network of collaborators
IP – Determine what kind of IP is missing and build a roadmap for bringing it to the Open Innovation process. BMW opened BMW Startup Garage to look for IP which can help the automotive giant, introduce new products faster
Step 4: Mitigate execution risks:
Draft a risk mitigation plan that aligns to the company's strategic goals
Pre-configure information security standards and restrictions for internal and external collaborators. Share manuals and build playbooks.
Align internal and external investments around a common outcome that can contribute value to participating parties and help avoid competition within the collaborative environment
Build measures and critical KPIs which will be tracked followed and updated by all parties involved in the innovation process
Recruit individuals who can build influence, motivation, and trust
Identify internal sponsors and external network advocates and establish decision-making authority for Open Innovation programs
Minds are like parachutes; they work best when open – T. Dewar, Scottish Whiskey Distiller tycoon
If you want to map your Open Innovation strategy and start accelerating your innovation and R&D, let's have a chat. Click here and schedule a call with Arek.
What does accelerate product growth and why Open Innovation helps to achieve the speed in implementing the growth strategy?
Innovation speed is one of the most critical aspects of R&D project performance and later product launch and growth strategy.
First, partnerships, which are natural for Open Innovation, allow the product growth projects to partition tasks between partners and benefit from a "division of labor." Examples of companies like Mozilla, Unilever, BMW suggest that innovations often can be untwisted into multiple components, and each of the elements can be delegated to a more reliable partner (more examples are available here, at my other post: "Linking customer experience to value.")
This, may reduce product development time by pooling resources together and dividing project tasks among partners. Moreover, partnerships with selected players also help to leverage partners' expertise in a particular field. Commonly, more established companies leverage growth hacking startups to get initial traction for the products, which used to be a domain of marketing agencies.
As products get complex and become ecosystems (like platforms and marketplaces) and usually involve technologies from multiple areas, it is hard for a company to develop and maintain all the required expertise in-house.
Second, working together with external players speeds up the innovation and commercialization process by gaining and leveraging ready-to-use knowledge and technology, which I call pre-made blocks. Old fashioned innovators either build internally only (for instance, Lindt decided to stay Closed Innovation oriented company) or they "reinvent the wheel." These companies don't leverage pre-made blocks which are ready to be used in experimenting, R&D as well as building new products. Diving into a startups environment can bring a lot of white label solutions, which can be developed and embedded into new products as components. Old school companies build the components; future-thinking companies hire them to deliver a compelling value proposition.
Third, collaboration with external players also helps to reduce the possibilities of rework and potential mistakes that may occur along with the roadmap to product launch and growth. A large number of delays in product development comes from errors and re-work. Since new product development is entering the unknown and ROI uncertainty is high, fast feedback is necessary because it defines ways for improvement and adjustment before visible reworks take place. Rework influence ROI and time-to-market.
When the project is composed only of company employees, the project team usually focus on its way of working without being aware of the mistakes it has made, or the potential risks it may encounter — not even mentioning new ways of working (like lean experimenting, check my post "Conducting experiments for achieving product-market fit").
On the contrary, if external partners are included in the process, the project is opened to external scrutinize and different perceptions. Therefore timely solutions, as well as feedbacks, can be (more quickly) obtained, which, in turn, reduces the chances of rework and shortens innovation time.
A 2013 executive survey, "Managing Open Innovation in Large Firms," discovered that 78% of firms reported practicing Open Innovation. The study involved American and European organizations with annual sales of over US$ 250 million. The study revealed that large companies were spending US$ 2 million annually on Open Innovation and had only 20 employees full time to run such programs (Source).
Open Innovation is an efficient way to face fierce competition in an environment where new business models and processes are being scaled by fact moving innovators. Its achievement is rooted in organizing multi collaboration between various players and parties to create a sum that is greater than the parts of the partners. When put into practice, this enables organizations to access ideas, skills, technologies, and assets quickly, combine them efficiently and bring product growth quicker and cheaper.