Ikea digital initiatives are getting more and more speed. When you look at the changes the Swedish giant is implementing in its operations, you will quickly understand that the company aims high.
Ikea's digital transformation boss is Barbara Martin Coppola, and she is in charge of making the dream happen. Under her leadership, IKEA is hoping to hit the digital home run.
What is she specifically working on?
What is the retail giant trying to implement as part of the IKEA digital strategy?
I sat down with my coffee, and I was just curious. What does the blue boxes company is doing in the era of Amazon and Alibaba?
Let's see
Related: How UBER want to dominate the future of city life?
Ikea garnered Geomagical Labs from Silicon Valley
Brian Totty, the CEO of Geomagical, said: "With our portable models, we let IKEA customers realistically imagine and furnish their spaces, from any location."
IKEA wants customers to pick up an item of furniture from its inventory, paste it to any space via a smartphone camera, and visualize how it looks. If this happens, you could bring IKEA equipment to your room without going to the store or playing mind games.
A quick look at the Geomagical LinkedIn page, and it becomes evident, IKEA grabbed brain horses. Data engineers, Machine Learning geeks, computer vision specialists are now part of the IKEA team.
Ikea digital and the "pay with your time" concept
If you want to spend a little time with IKEA, the company offers customers discounts based on their Google Maps Timeline.
How does it work?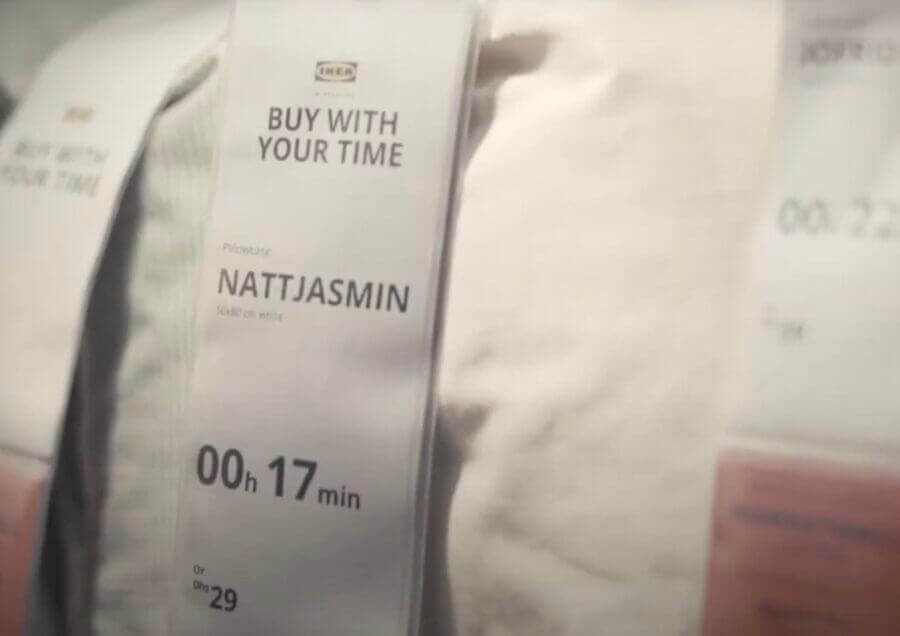 IKEA digital strategy needs to increase the number of people who visit blue boxes. Most of them are located outsides of cities, and it takes a chunk of time to get there. A new initiative from the giant allows you to "Buy with your time" – with the time you need to spend traveling to the stores.
You can get an item, food, or other goods for free. It just depends on how hectic was the travel, and what was the traffic jam.
Meatball business as a part of IKEA digital transformation effort
Barbara Martin Coppola wants meatballs, bur digitized. Not exactly, but the digital company strategy intends to inject more bits into the food logistics.
You might not believe it, but the food division loves spreadsheets and paper for tracking the flow of food products. Your tuna, meatball, or broccoli is there, flying from stores to stores as the number in Excell.
It will be different.
The new digital strategy will mirror operations from the furniture side of the business, tracking veggie freshness and total meatball counts. Workers will use portable scanners to monitor inventory levels, expiration dates, as well as location – to location updates.
[elementor-template id="3798″]
Digital dashboards will display peak times, incoming deliveries, and important turbulences in the supply chain. Chatbots will help to communicate between restaurants and suppliers.
IKEA hired JDA Software to run the project and deliver a comprehensive platform.
IKEA wants your cookies
The first-ever, Chief Digital Officer, Mrs. Copolla, is working on the app with Work & Co agency. On of the goal is to design the tool which could suck in customers browsing history. Ikea wants to learn preferences to craft precise recommendations, but respect your privacy as well.
Giant is bringing the store ordering function in-house so it can build up data and pricing history. Starting with the website, and stitching this with back end data, IKEA tries to cover the whole data chain and design better-tailored offering.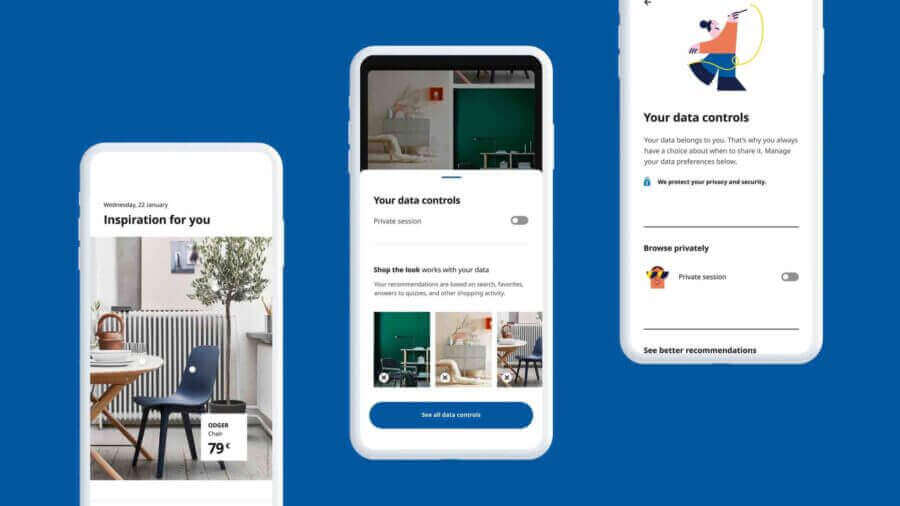 Can the company bring value by swallowing the customers' data? Certainly. At the same time, IKEA will ask people if they want to share the data. Giant counts on trust, which will increase the loyalty factors.
IKEA's digital team transparently designed the app controls, so end-users will find it easy to change the privacy settings.
IKEA bets on mobile
IKEA wants to be in various apps, with different stuff, and the team makes it happen by partnering with tech company Holler. Holler is developing digital stickers for mobile users to share on Venmo. IKEA's animated sticker shows two people pushing a shopping cart filled with home furnishing.
Why Venmo? IKEA digital initiatives focus on everything that makes buying easier. Here the story is the same. Venmo. The Pay-Pal-owned app lets users split their bills with friends and followers.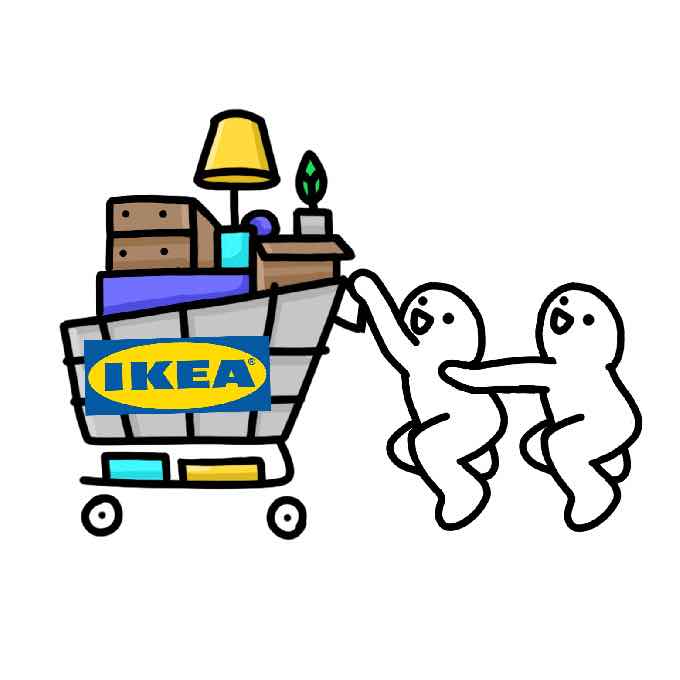 From sticker to seamless transactions – that's the element of the IKEA digital strategy.
More smart devices
IKEA sells smart speakers, intelligent bulbs, power plugs, and now it added smart blinds. It is not new that the item is voice-controlled. It only shows that IKEA is committed to bringing more smart devices under our roofs.
IKEA wants you to assemble your smart home. The company had created a division dedicated to developing an ecosystem of intelligent devices. Like your bed or closet, IKEA will allow us to design our lovely and cozy smart place.
Like it or not, the blue whale is taking solid steps to redesign itself, and still having blue boxes on the planet, with meatballs on the plates in the restaurants. Ikea digital transformation projects are bringing top-notch technologies to the giant heart.
If you like this article, I think you might like the following too: