More and more companies look for a Product Manager that specializes in building Artificial Intelligence products.
Why?
Well, Statista could be one source for a comprehensive answer. The research company claims that the Machine Learning technology market will grow or the next 20 years. The revenue level will increase from 9.5 billion US dollars in 2018 to 118.6 billion by 2025.
What is vital in the research is the software aspect. Natural language processing, robotic process automation, and machine learning are top components of the change. Without these technologies, growth is not possible.
So, what giants like Apple, Amazon, Microsoft, and Alphabet focus on? It is obvious. They try to plot machine learning technology into products, which then drive the growth of the business. To make it happen, these firms need product managers who understand machine learning and offer the right skills.
Big hunt for Machine Learning product manager
Amazon posted almost 100 vacancies (April 2020), and all of them contain keywords: product manager and machine learning. Apple and Microsoft added another 50 job openings (please notice this is the COVID19 era). That's only three tech giants, and there is at least 50 more machine learning examples of tech titans, including Tesla, IBM, Oracle, Intel.
All of the opportunities mentioned above contain machine learning skills as a requirement. It is a new category, which snowballs, adding hundreds of jobs in the US recently. I don't even count startups, which are seeking for thousands of product people with ML skills.
Machine learning and AI is becoming big
Some companies drive themselves only by machine learning technologies. Here are a few machine learning examples of products, which couldn't be launched without ML skilled product manager:
BUILT Robotics, (funding level; $48M) which retrofits construction equipment with modern sensor technology used in autonomous vehicles.
Squirrel AI Learning, (approx. $3M funding) is an adaptive online education platform that delivers learning solutions for secondary level schools.
Zesty.ai, (funding level; $13M) this company machine learning-powered platform process more than 115Bn data points on 140 million US homes. Insurers use the company's data insight to underwrite risk more precisely.
In 2019 companies that leverage machine learning technologies raised a record of $26.6 billion. Investors want to skyrocket their profits, and these kinds of companies are one of the best horses in the race.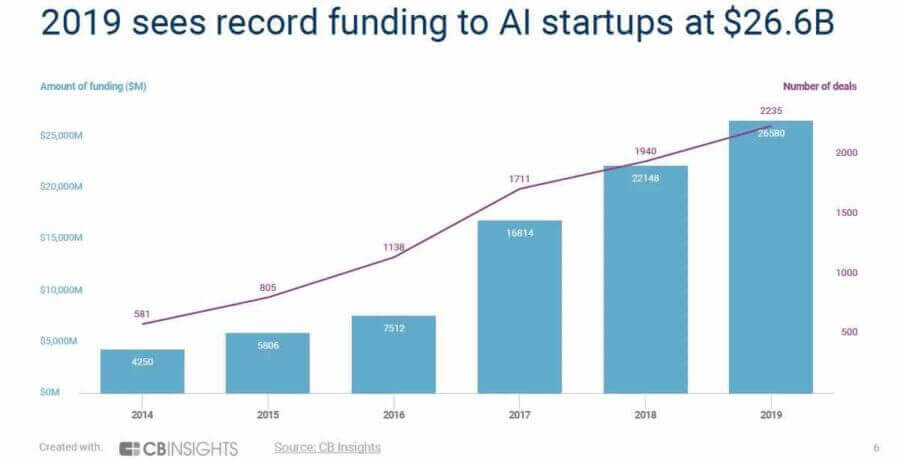 How Product Manager can get machine learning skills
There are numerous ways when you can start. In my opinion, starting small is one of the best rules, which you should leverage. By starting small, I mean to pick up the starting point carefully. There are a few starting points, which you could consider:
Take a set of courses and focus on them for a specific time.
Read books and insights by setting up a specific number of pages daily.
Study business models and learn how other companies crafted their value proposition.
Learn tools, try them out, and build your unique tools set.
Machine Learning courses and books for product managers
If you are a product manager, and you decided to start your journey from picking up a course, please make sure you will stick to the process for at least six to ten weeks. Most of the courses are designed as weekly sets. You want to finish at least three different classes. Product Manager needs to understand what is the machine learning technology, and also how to leverage machine learning in business. Don't stick to one type of course only; make sure you cover business and tech studies.
Business courses
Business courses which I recommend for your first three months:
I don't recommend getting more courses on your desktop, as Machine Learning is such a broad scope, you will never have a feeling you understand everything. Three courses, two or three months, is enough. It will give you a comprehensive understanding of how, as ML product manager, you can help your company to bring more business.
You can also watch my presentation about learning Machine Learning:
I have started with business courses, as I am an advocate for business first, technology second approach. Your car dashboard needs to be easy to grasp first, and then it matters if it is an analog or digital one. If you catch the strings which ML can pull, and grow the business, afterward you will find out the best tech angle to create a powerful software.
Technical courses
Now is time for more technical diving, here is a handful of courses:
Pick up two from the above and twist your product manager career a little. Please remember that you will need to speak and collaborate with the Artificial Intelligence team. The product management process with Machine Learning components is no different than classic product management.
The only difference is that the Machine Learning team gets involved. You need to be able to speak their language and have the best in class understanding of foundations. Don't try to understand details, get the foundations. When a product manager needs to get details, they talk to the specialists. Engineers and scientists will armor you with Machine Learning secrets.
Recommended Books
I don't think there should be many books on the product manager's shelve (or in the folder). On top of the courses, it is always great to read books. Again, I am a big fan of doing and studying, not the other way. Books are a great add-on, but I think they can't be a primary thing. There are a few great books, which I would recommend:
Study business models of machine learning-powered companies
A product manager's job is to listen to customers, design, and launch products that drive a strong value proposition. The value proposition is the central part of the business model, which influences the other parts.
If your company sell robots, which can bring medicines to patients in the hospital, you bet on convenience, safety, and touchless process. Your value proposition is even more potent during the COVID19 era.
This fact influences what kind of relationship you build with hospitals, what people you need to have in your product team, your pricing strategy, and distribution channels.
If you sell these robots to privately owned hospitals, you need to build a relationship with hospital administration squads. Also, you will need to prepare showrooms and provide robots for tests, which influence your cost structure.
If you want to get machine learning skills, and conduct product management process correctly, study business models of ML-driven companies.
Machine Learning driven company example
Here is the business model canvas of a machine learning-driven company. Behavox is a fascinating company. When I dived into their business model, I realized how many different pieces the management team had to put together to get this business running. It blew my mind.
Product manager often thinks that machine learning technology is the most critical asset of successful companies. Technology is essential, but it needs a compelling and robust business model as the foundation.
I believe that studying business models can give a product manager a unique understanding of fo how to build successful, AI-driven products.
Here is the example of Behavox's, AI-driven company (click on the picture do see PDF file)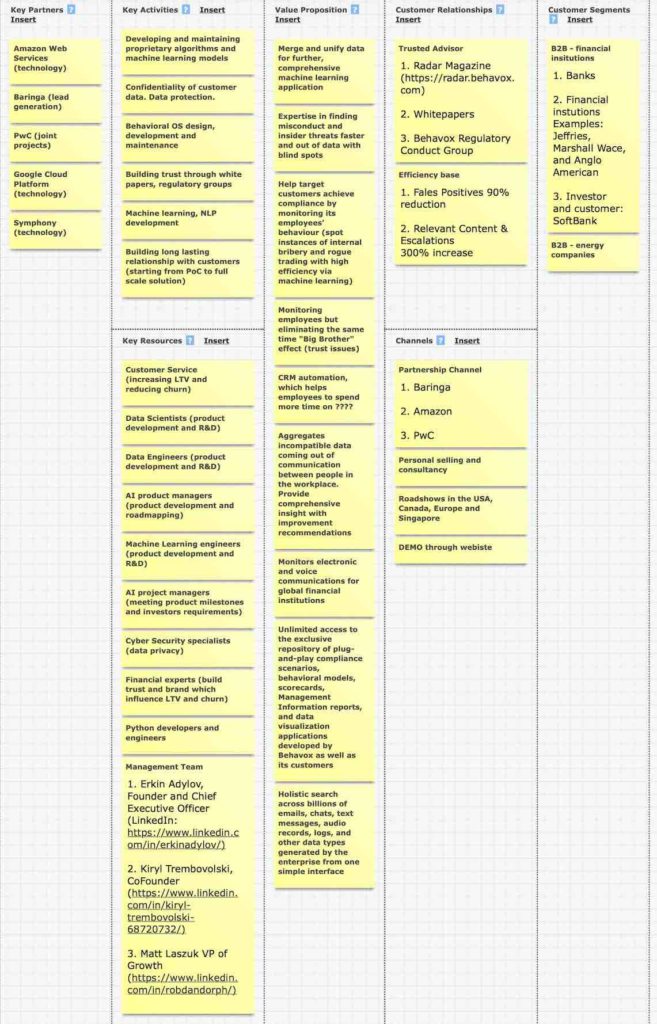 When you look at the Behavox business model, you will quickly understand that their product management process wouldn't be effective without carefully selected partners. Companies like Amazon, Baringa, PwC, or Google influence Behavox growth substantially.
Also, by studying Behavox distribution channels, a product manager can quickly grasp the idea of roadshows or demos, which the company needs to perform. It is essential, as Behvox technology requires a lot of explanation. The set of features create a complicated mosaic. Behavox team needs to explain these feature and their value.
Behavox needs to be and act like a trusted advisor. The firm processes a lot of sensitive information. For this reason, the company launched online Magazine, where experts and industry thought leaders publish articles and posts. They explain how Behavox process data, how they take care of anonymity, and other security issues.
Related article: Business model design, redesign, and test in a structured way
Machine learning example like Behvox proves that investor can be, at the same time, a great customer. The company aims at the financial industry and works for banks and other financial institutions. Now it is clear why SoftBank (widely known investor in Uber, WeWork, Slack) is their investor. Softbank is one of the biggest companies in the world, and one pillar of the company business is the financial sector.
Workbench of machine learning product manager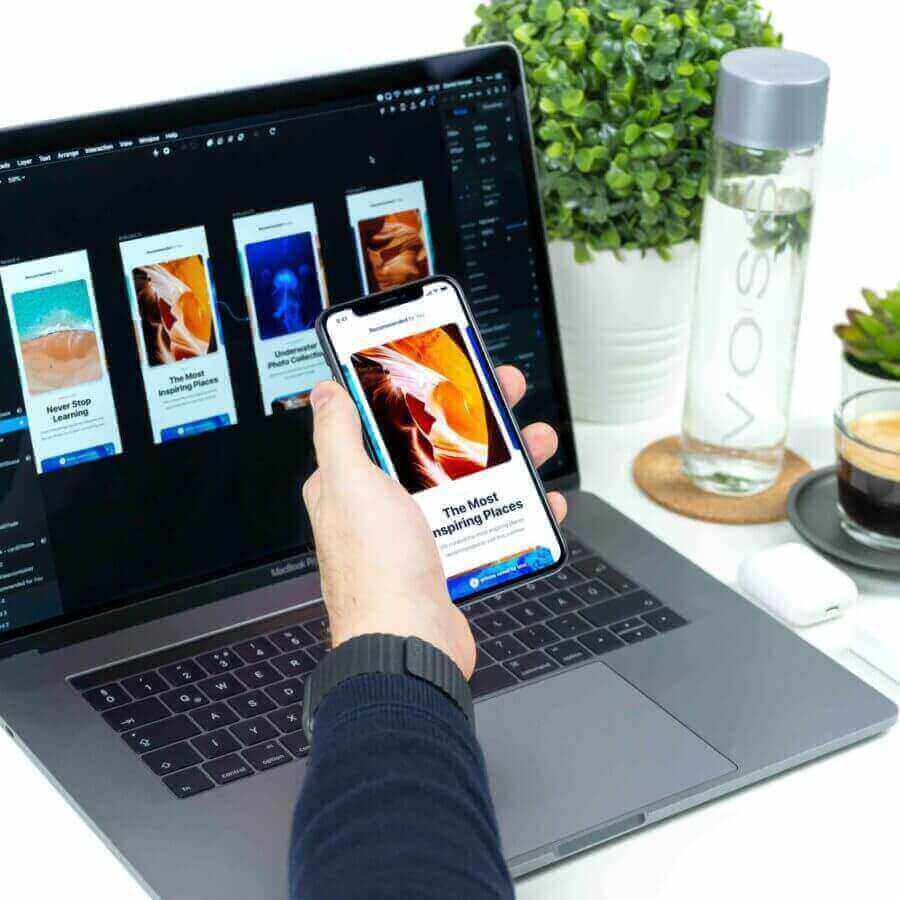 If you play with the ball, you will start making progress. Then you need tools to drive you to the future. Reading books, taking courses, and studying business models will take you only to a certain level. Now it is time for practice and execution.
Machine Learning is very much a UX problem. Even the best machine learning technology requires a perfect interface because results are not easily explainable. In many cases, end-users will require an explanation before they trust the results. The product won't earn the credit even if the results are 100% accurate. The key to receiving users' love is to show the results properly.
Play, learn, repeat
A product manager needs to play with AI-driven products to understand how features work and what is the customer journey mechanic. Downloading apps with machine learning technology inside will help to learn how the best front-ends function.
Two years ago, I subscribed to X.AI. It is an AI-driven solution that will sneak into your calendar and schedule your meetings automatically. As a product leader, I need to handle a lot of meetings. I thought, "well, let's check if machine learning technology can handle my challenge." Not only I found an excellent solution to my problems, but I also learn how this software "communicates" with me. I could experience the product management process, as well. The company updated me regularly on the new feature release and the interface redesign.
Another example is Datarobot. I served as a leader to a giant eCommerce company, and we need to evaluate a lot of data to make sure whether it is a valuable piece of gold. Evaluating data sets is one of the most critical elements. You want to know you have a useful dataset in hand before you start to invest heavily in machine learning technology. Playing with Datarobot taught me more than reading books about the importance of data quality.
As a product strategist, I spend a lot of time on studying product metrics. My thought – is there any AI-driven tool, which can help me to automate my work. I have found Troops.ai. I have learned a lot about ML in the customer's success field.
Related article: AI software, which makes Product Manager life easier
The type of product determines the toolset. I firmly believe that a product manager should play with different tools, as this is a powerful way to learn how machine learning technology works, how the results of ML models need to be communicated via a compelling front end.
By playing with real apps and software, product managers can grasp a lot of ideas, which then can squeeze into the product management process later.
Conclusion
Even if machine learning is not the top priority for your organization, understanding the power of it and how it works can boost your career in product management.
If you are a product manager reading this and wondering, should I even bother with ML. My recommendation is, yes, you should. AI and ML eat software. Companies are hiring more PMs, who will add value to their organizations, and machine learning skills are on the top of the ladder.
Please make sure you will read and study, but nothing will replace the hand-on, roll-up your sleeve strategy.
Would you like to work with me? Click here and schedule a call with me.