Your company must innovate as if it were a startup to continue maintaining its position and market share in an increasingly competitive and unpredictable business world. If you do not do so, your company may encounter compromised situations, such as Kodak (lessons from the Kodak bankruptcy).
At the time when it did not adapt to a digital market, it collapsed. The same also happened to Toys »R» Us and Soars recently. Those are a clear example of the crisis that affects retail due mainly to the e-commerce push.
The average life expectancy of companies (S & P500) has been reduced from 60 years in 1960 to only 17 years on average today.

How your company behaves?
Is your company exploiting all the features of your portfolio? When was the last time your corporation has launched a new product or service?
Corporations and companies often behave like large vessels. They work with high force to exploit economies of scale to get the most out of the business.
This behavior is more than accurate when it comes to making the most money from business unit of the corporation. Without a doubt, companies must keep an eye on the future to guarantee the survival of the corporation.

If you like this article, get more great startups <-> corporate posts by subscribing to my newsletter (click here).
The solution: develop new business models and innovate as if it were a startup.
For this, companies and corporations must focus on two clear objectives:
Exploit your current business model.
Promote new business models.
The business models, directly related to the products and services that are part of the value proposition of the model. At the same time, go through different situations concerning the growth, maturity, and decline.
As a general rule, the starting point of corporations and companies is usually in the maturity. Therefore, the company must manage its current business model with business paradigms like innovation, cost reduction, marketing, and more.
Meanwhile, taking into account that business models are increasingly ephemeral (from 60 years of average life to 17 years), companies and corporations must promote new business models.
These new business models will be in the market introduction phase. This is where the company must innovate as if it were a startup. Nowadays, we know that it is possible to create new products and services applying new methodologies such as Lean Startup that allows reducing the inherent risks when innovating.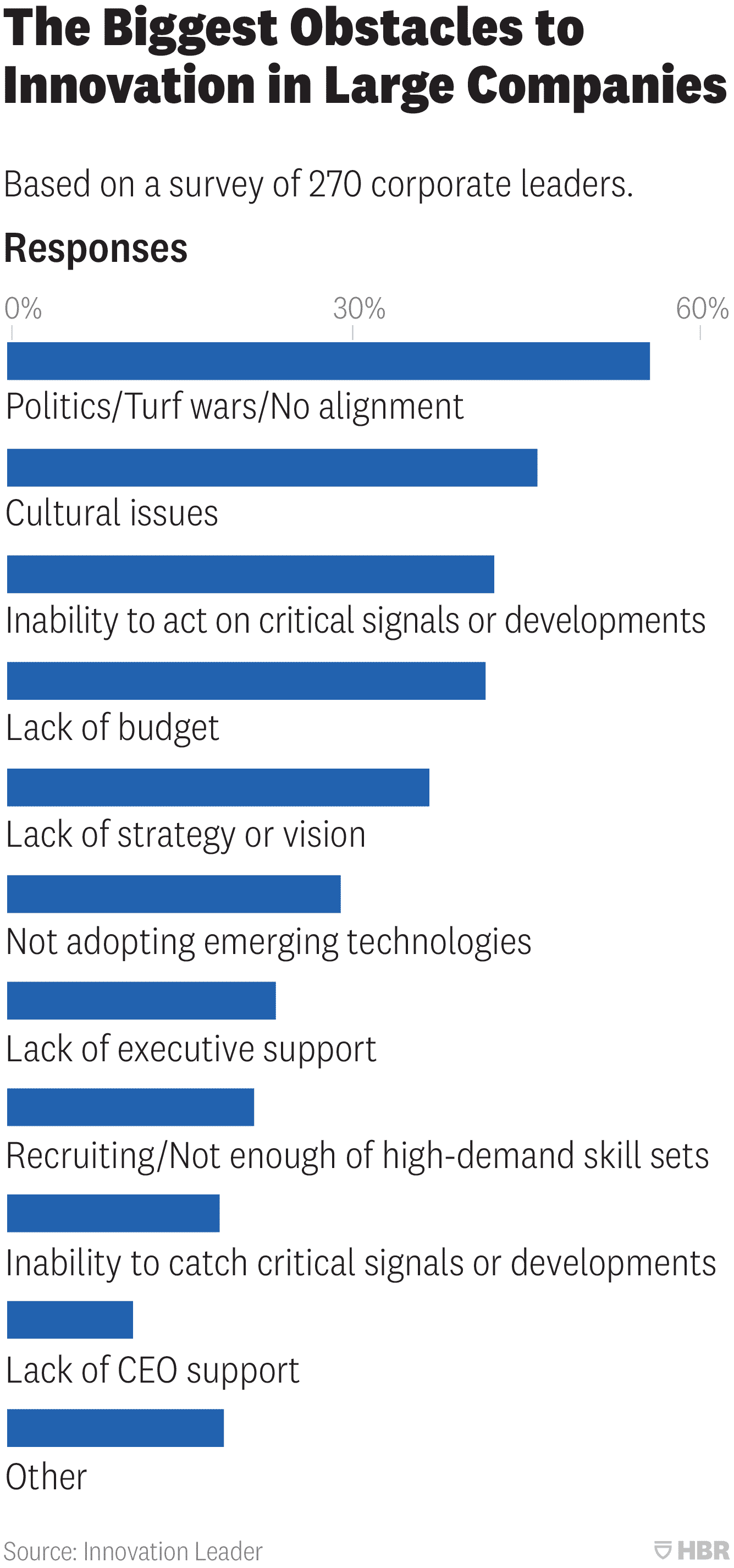 Companies and corporations must promote several innovative projects at the same time, being aware that many of these new business models will die down the road.
This is where many strategies come into play to encourage such innovations from companies and corporations. It can be from corporate venturing, intrapreneurship, corporate startup acceleration, corporate venture capital (CVC), innovation hub, and more.
When the innovation runs well, this is where companies must continue to support new business models to reach the maturity stage.
All this work of innovation and development of new business models should be done in parallel to the management of the current business model. It is also important to know that companies should work on it before its decline.
Where do I start to innovate as if it were a startup ?: Innovation Master Plan.
If we want to be successful in the face of the challenges we must face, the first thing a company or corporation should do to innovate as if it were a startup is to plan.
In recent years we have experienced a boom of corporate accelerators driven from the bosom of a company that has not been accompanied by other actions within the corporation to take advantage of the investments and the results of these acceleration processes.
To avoid such bad results, from the board of directors and commanded by the CIO (Chief Innovation Officer) the corporation must develop a master plan for innovation at least 3-5 years ahead.

If you like this article, get more great startups <-> corporate posts by subscribing to my newsletter (click here).
In the innovation master plan, it will be necessary, to begin with an in-depth evaluation of the whole corporation from the performance of the company's current business models.
The company's innovation plan must structure adequately and take into consideration the following elements:
Cultural: Cultural change of the corporation towards an innovative culture.
Structure: depending on the corporation, define the architecture that drives innovation: digital hub and innovation center: new developments, training plans.
Talent: Promote intrapreneurship, retention, and attraction of talent.
New developments: Corporate venturing.
Ecosystem: coworkers, sponsorship events, contests.
Startups: corporate acceleration of startups, client-provider.
Investment: Corporate Venture Capital (CVC), Merger & Acquisitions (M & A), Media for equity, etc.
If you like this article, try this one, you will like. It's about "The myth of corporate innovation lab"