For some reason, the company always gets my attention, and the Amazon Artificial Intelligence strategy even made me more curious.
I love to constantly check how the company launches new products and develop go to market strategy for its innovations.
The goal of this post: In this post, I am trying to put together a lot of different facts, information, insights to explain how Jeff Bezo's firm becomes an AI-powered company.
How does Amazon leverage Artificial Intelligence?
The company that fixes the mode for so many aspects of customer experience is breaking down internal silos and proving how other firms can do the same. Amazon, a leader in leveraging customer-centric innovation, has taken its business to the next level by redesigning the company around its AI and machine learning applications. Some of them involved rethinking current plans, like the company's robotics space and its huge Amazon Web Services (AWS) business. Others are entirely new businesses, like Amazon Echo, healthcare division, and more.
What is a flywheel?
The company chooses to use the word flywheel to illustrate how different parts of its extensive business work as a single perpetual motion machine. The company developed and has a robust AI flywheel, where machine-learning innovations and improvements in one part of the firm fuel the work of other groups, who can build products or launch services to influence other teams and the company at large.
This is why they call like that, a "flying wheel" creates so much power that dragoons the whole organization structure into AI.
AI is not located in a particular office at Amazon, and it is more like a ghost cutting across all departments. A customer can visit Amazon 4 stars to pick up the most popular book in January, ask Alexa to look up if the delivery arrives, and the product recommendation engine can discover that the end-user needs to purchase a specific textbook or audiobook. Jeff Bezos wants a complete, trackable chain.
If you didn't get your smart plug yet, the company would offer you one for a dollar, so you start playing with a smart home. AI is cutting through every aspect of your experience with Amazon.
Moreover, the mobile app will ask you for snapping a picture of your friend's apparel style, so the AI can learn your taste and start offering "try before you buy." This is what it means AI in retail to Jeff Bezos, but it is not the whole picture.
How AI drives Amazon business growth
The role of AI in Amazon's recommendation engine is enormous, as it generates 35 percent of the company' company's revenue. Through collecting data from individual customer preferences and purchases, the company's recommendation engine tends to personalize the list of products that customers need to purchase. The massive quantity of data formed or gathered is used to organize a "360-degree view" of an individual client. Using that profile, Amazon can find other people who fit into the same criteria based on hundreds of touchpoints (data sources) make recommendations for them as well.
Results? The firm reports $87.4 billion in Q4 2019 revenue and shared that AWS is up 34%, subscriptions (Amazon Prime + Whole Foods, Videos, and Music) up 32% and Echo, Fire TV, Alexa Voice Remote (called other), up 41%. Online stores are up 15%. Prime members pool is now 150 million subscribers, comparing to 100 million two years ago.
The results show the organization's substantial investment over the past year is paying off in a big way.
Amazon pushes retail industry Artificial Intelligence adoption
What started as a simple strategy of price cuts and cross-selling of Alexa smart speakers at Whole Foods now looks a lot more dangerous for Amazon's competitors.
Over the past years, company pulled more rabbits from the hat in defining an omnichannel strategy with a wide range of physical touchpoints. The "physical store" unit at Amazon now includes:
476 Whole Foods Markets,
12 Amazon Go convenience stores,
18 Amazon Books stores,
three Amazon 4-Star outlets
Come, take, and go
Nobody yet offers that kind of experience on a large scale. When you shop Amazon Go, you will never wait in line. Do you remember your line in IKEA or Wal-Mart? Here is not the case. The stores from Amazon works with the Amazon Go app, and it is all AI-powered.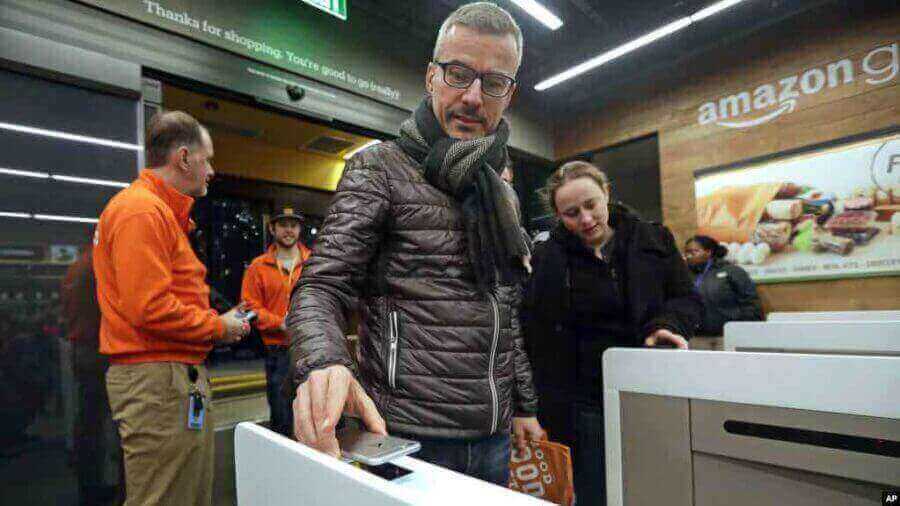 Pay with the Amazon app is a must
When you visit Amazon Book Store, you can scan a QR code at the register, and then the store associated will offer an optional paper receipt. The purchase record is stored in a user's app account order history – as simple as that.
Amazon Book Stores displays books face out without a price. What space waste and confusing label!. In fact, this is data. Books are face out with placards displaying reviews and ratings. No price tag! Why? The firm wants you to pull up the app and scan the book to buy it there. Can you imagine the data flow? Not only for merchandise analysis but also for training the algorithms and machine learning infrastructure.
Company stores, some of them, like Go stores, are packed with high-end technologies. The firm uses the same types of technologies found in self-driving cars, such as computer vision, sensor fusion, and deep learning. They want data, and they get it. The techniques can detect when products are taken or returned to the shelves and keeps track of them in the virtual cart.
[elementor-template id="3798″]
Amazon learns 24/7
Amazon Book Stores displays books face out without a price. What space waste and confusing label!. In fact, this is data. Books are face out with placards displaying reviews and ratings. No price tag! Why? Amazon wants you to pull up the app and scan the book to buy it there. Can you imagine the data flow? Not only for merchandise analysis but also for training the algorithms and machine learning infrastructure.
Jeff Bezos' organization knows a lot about its clientele — from shoes to groceries. With this fantastic knowledge, Amazon is now leveraging AI to predict what you will buy. Its new strategy is to ship free samples of products to users. These products will be the ones that a specific person is most likely to buy.
The company has both the infrastructure and the purchase data that can help it in sending free samples to its customers.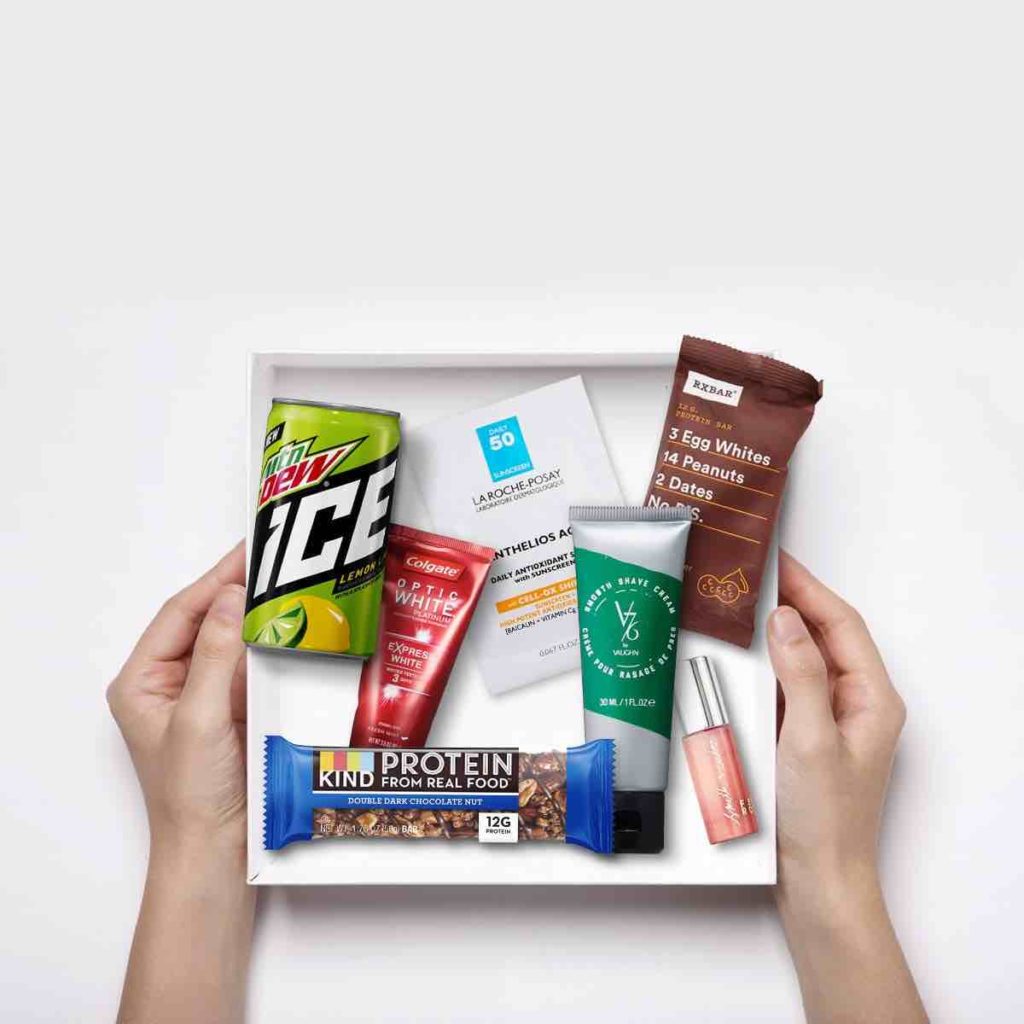 Logistics and delivery as a vital part of building an AI-powered firm
Russel Allgor, Chief Scientist at Amazon Worldwide, doesn't see Amazon logistics hubs as buildings. Instead, he considers them as the data throwing hardware.
Fulfillment centers play a central role in Amazon
One fulfillment center operates from 1 to 3 million bins, around ten million items in orders. Amazon loves that, as it creates a vast stream of data. Do you remember 360 profiling, which I mentioned at the beginning of this post? Company's hubs are part of the equation. The centers are set up like New York Manhattan. They are grids, highly structured. It's crucial as this configuration enables computer vision systems to locate each order ideally.
Amazon constantly analyzes the journey of every order so it can optimize its way on the fly. Robots that are carrying the orders are AI-powered. Algorithms help them to learn in real-time, where the order is, where it should be, and how to get there the fastest possible way. The grid structure is the best configuration for this purpose.
Why the firm owns a fleet of cars, jumbo jets, drones, and other vehicles? It wants to track exactly where the specific parcel is. It's a complete logistic chain, fully trackable, and customizable in real-time.
It all starts in the fulfillment center and then influence the whole supply chain. Hundreds of small improvements are embedded in logistics operations. All of them want data and output data.
Integrated ecosystem
Alexa is now a personal assistant for drivers. Amazon fleet operators get information about their routes, parcels, and more.
The company ordered electric-powered parcel delivery vans, which will have Alexa built-in. The cars will allow drivers to control vehicle features verbally (A/C, heating, maps, music, etc.), including opening and closing cargo trunk, called "frunk."
Jeff Bezos' company operates more than 175 fulfillment centers around the world in more than 150 million square feet of space, the majority located across North America and Europe (source: AboutAmazon.com). Robots are used mostly for delivering large stacks of products to human workes. Amazon wants to change it. It continuously develops new robots and redesigns existing ones to bring more automation and smart algorithms under the fulfillment centers roofs. To strengthen the process, the firm announced that it would pay workers up to $10,000 each to quit their jobs and start up their own delivery companies as part of Amazon's Delivery Service Partners program.
In 2019 in Las Vegas, the organization unveiled its latest Prime Air service: these are fully electric drones that deliver straight to customers' doors in less than 30 minutes. The AI-powered drone will carry all the packages which are less than 5 pounds to the destination.
For many retailers, spreadsheets remain the first vehicle for maintaining supply chain data and decisions, creating silos of unstructured, disconnected data that can increase operational costs and disorganizations.
Amazon leverage AI to redesign supply and make sense of this data, automating the ability to predict customer demand, estimate product availability, optimize delivery routes, and personalize communication with customers while tracking the whole supply chain.
Related: Retail innovation by IKEA
Third-party collaboration strategy seasons Amazon Artificial Intelligence
Company has been working on supporting third-party manufacturers to integrate Alexa right into their products. The effort is called Alexa Voice Service, and the initiative has attracted about 100 products so far from corporations like Sonos, Ecobee, Sony, Lenovo. Alexa Voice Service is primarily a set of APIs in the cloud that enable hardware makers to employ Alexa. Amazon makes its front-end audio algorithms accessible to third parties, as well as guidance for developing Alexa-powered devices.
The firm is also partnering with organizations to let them design customizable skills for Echo devices located in college dorms or hotel rooms. How does it work? As simple as entering the room and saying, "Alexa, turn on the light and make coffee," and the rest is clear.
Amazon wants to democratize the Alexa skills creation process and make it easy for everybody to write the skills. It launched Blueprints–a template powered skills creation tool, that just about anyone can quickly learn and leverage.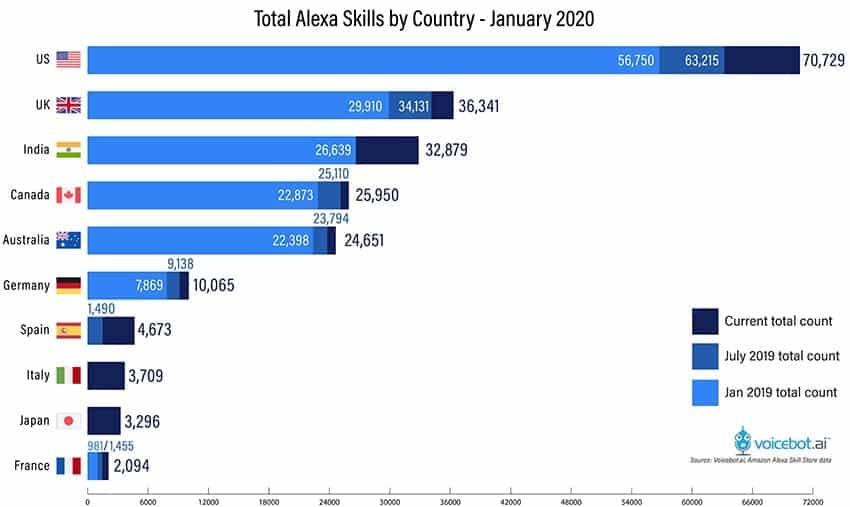 Skills became so easy to use that not only hardware manufactures and joining the club. Real Madrid (one of the most valuable sports teams in the world) unveiled its setup. Now fans can ask the AI platform for La Liga club' club's latest news. Alexa powered devices will play audio and tune in video content in English or Spanish. Real joined a growing list of clubs offering updates via Amazon AI algorithms. English soccer Liverpool already leverages the Amazon ecosystem, Major League Baseball (MLB), National Hockey League (NHL), and NFL as well.
The company needs data, so it wants you to speak to Alexa as often as possible. When you talk into the Alexa device, you can also access Amazon Music, Prime Video, recommendations from the main shopping website, and other services. Then the technology began exploring other domains as it can bring non-Alexa products like Fire TV, voice shopping, the Dash for Amazon Fresh, and more.
Artificial intelligence for rookies and experts.
AWS offers more than 175 services for computing, storage, databases, networking, analytics, robotics, machine learning and artificial intelligence (AI), Internet of Things (IoT), mobile, security, hybrid, virtual and augmented reality (VR and AR), media, and application development, deployment, and management from 69 Availability Zones (AZs) within 22 geographic regions, with announced plans for 13 more Availability Zones and four more AWS Regions in Indonesia, Italy, South Africa, and Spain. Millions of customers—including the fastest-growing startups, largest enterprises, and leading government agencies—trust AWS to power their infrastructure, become more agile and lower costs (Source: aws.amazon.com).
It is massive cloud-based storage and server business with a lot of software. Retail, real estate, fashion, entertainment, health care, and more are using AWS machines to drive business, cut costs, deliver smart products and services.
AWS implementation examples
Grammarly, which predicts what a user is writing and what corrections are required (by the way there is a pool of great AI-powered tools for writing, if you are interested)
DuoLingo which is using Amazon's text to speech service to generate customized language lessons
Liberty Mutual, which is using Amazon conversational API
Bundesliga has chosen AWS as its technology platform to deliver more in-depth insight into live broadcasts of Bundesliga soccer games and enable new personalized fan experiences. Bundesliga wants to automate processes, increase operational efficiency, and enhance fans' experience.
German soccer leauge also wants to process 150 000 hours of video and tag them automatically. It will help Bundesliga to search across its entire history of football footage.
NFL wants to improve players' safety and uses AWS to study injuries. NFL has collected 42,000 injuries information, from 8000 players over the past ten years. Players are wearing sensors equipped mouth guards and help to study concussions. NFL wants to run scenarios to assess the risk of injuries.
The Drone Federation of India announced to use AWS as its preferred cloud service to accelerate the development and growth around the drone ecosystem in the country. The partnership will recognize use cases for drones in India across various areas such as land study, precision agriculture, and disaster management solutions.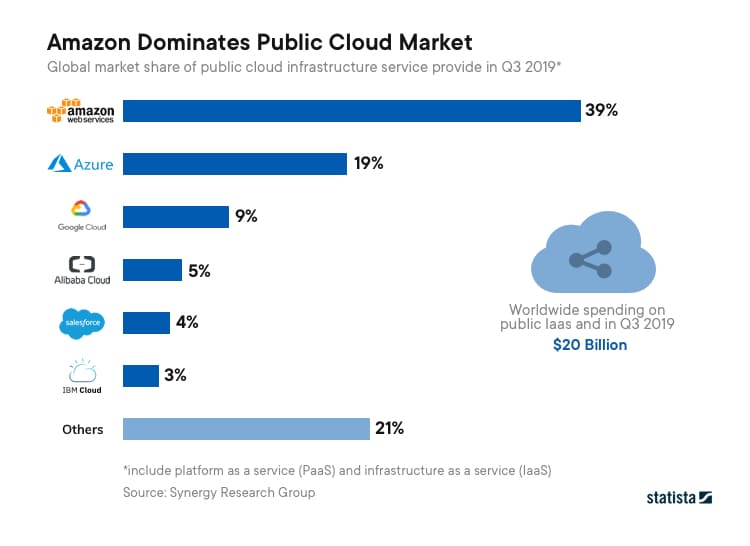 AI in retail doesn't mean Artificial Intelligence is inside the app or inside a store only. It also means a platform for other companies.
There are thousands of examples of how AWS is dominant and how compelling value proposition the product drives to the market. Amazon platform can empower various types of businesses, industries, and verticals. It looks like there is no limitation to the company in the cloud space. As skills inside Alexa are getting easier to use, AWS is going through the same process.
Jeff Bezos' teams have created an open-source toolkit for called AutoGluon, invented to make it more comfortable for software engineers to take advantage of deep learning models and machine learning in their applications. AutoGluon is intended for both experts and beginners.
Jeff Bezos' ideas for building an Artificial Intelligence-driven Amazon
Yes, Amazon created a healthcare unit, and the cardiologist runs it. Mr. Majmudar is a Chief Medical Officer at the firm. His input into the company's AI strategy is huge.
Voice and images are gold
One of the products which the company launched helps to transcribe medical speech for primary care. It supports medical dictation and conversational transcription. The algorithms are HIPPA compliant and can send a stream of text in real-time from recorded notes.
Since Amazon has a lot of expertise in recognizing images and voice, it pushes these capabilities to all its products (according to the flying wheel strategy). A great example would be the artificial intelligence plug-in for Facebook Messanger developed by the University of Hospitals of North Midlands Trust and Lancaster University. The component can answer the majority of questions patients asked through chat, because it leverages the AWS platform, which can continuously learn from medical staff. The team started from the breast cancer field and is extending the scope to other cancer and mental health screening.
I can share many examples where voice, photos, or videos are processed by the company to extract information for further applications. You can probably see a similar pattern conducted by the firm; on one end, there is always and input from customers, in the middle AI magic happens, and the output is either automation (Medical Dictation) or forecasting (NFL example).
Call Amazon's physicians to get rid of flu
But, the organization does more. The company invested in Medical Center in Boston, with the primary goal of testing artificial intelligence tools. Amazon partnered with Providence, Boston Children's Hospital, Atrium Health in Charlotte, National Health Service in the UK, and more. Alexa became a HIPPA complaint in 2019, which means it can transfer protected health information, and Prime Members can use an online pharmacy service called PillPack. Jeff Bezos would love insurers in the USA to integrate PillPack into their health benefits plans.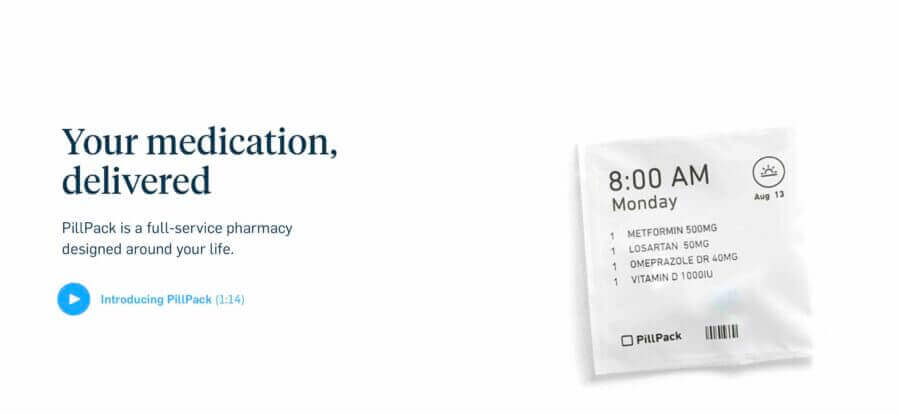 The company wants to be an essential player in healthcare plans, so the company launched its own healthcare program called Amazon Care. Of course, the company designed everything around data input and output. The program offers digital health clinics, and if you need to see a doctor, she will come to see you — all powered by apps, data, AI, and algorithms.
While Amazon has barely touched healthcare's surface, it has the potential to own the space with its e-commerce expertise. Without the need to make money in healthcare, the company can run experiments, test algorithms, and launched early-stage products. All the knowledge always empowers AWS, which offers more and more capabilities.
There is also another perspective; Amazon's method allows other companies to outsource parts of their businesses that are messy and outside their primary focus. AWS will host it, automate it as it did with books and movies.
You might like reading this: Uber business model mechanics explained
Conclusion
First, Amazon Artificial Intelligence powers wide range customer-friendly products with user experience and customer experience superior to that of its competition. This allows Amazon company to build economies of scale, network effects, and leverage for negotiating with other parties (e.g., suppliers).
Then, it invests in upfront fixed costs that allow it to function better and provide an outsourced version of services to its customers. We've seen this with Fulfilled By Amazon (FBA) and Amazon Web Services (AWS), which allow companies to use traditionally expensive services (warehouses, data centers, etc.) on a rent-to-own basis.