After a storm because of the COVID-19, the IPO market has come back, and the machine learning-driven startup, Lemonade has rung the bell. Just look at their offering, the shares spiked by 139% to $69.41—putting the market cap at over $3 billion.
Lemonade is a next-generation AI company offering home insurance products. It is a pioneer in the InsurTech ocean. Its adoption of machine learning (ML) goes beyond customer experience and driving efficiencies to underwrite risks and manage claims.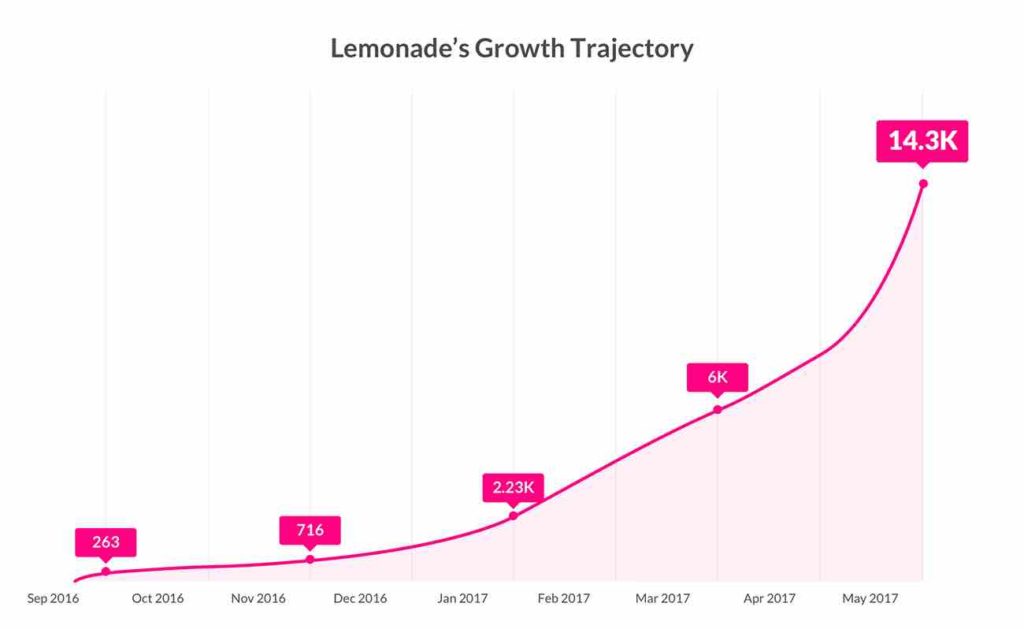 Source: Lemonade.com
Considering Lemonade as a disruptor to the insurance industry, top-notch investors like SoftBank, Google Ventures, and Allianz financed the company with a $480 million funding. The investors' trust was strengthened as the startup managed to attract more than 14,000 subscribers in eight months only. It is is not the end of the fantastic story. Having reached $1m ARR in Q2 2017, Lemonade's ARR reached $10m ten months later and jumped from $1m to $100m in 2.5 years.
Lemonade's business model loves machine learning
The startup's business model is based on a transparent fee structure, which the company communicates openly to customers. This is a game-changer. Most companies keep the structure in the treasure box and don't want to explain the pricing.
Lemonade utilizes collected customer premium in the following manner:
20% flat fee for Lemonade which covers everything that needs to be in place to run the business
80% used to fund claims, buy reinsurance, and include taxes and fees; surplus goes to a charity of the customer's choice
Lemonade generates revenue by offering and selling renters and homeowners insurance. They sell those policies in the USA and, as of 2019, in Germany.
Renters insurance starts at 5$ a month, whereas homeowners pay at least 25$ a month.
To make this model so powerful, Lemonade utilizes:
chatbots to handle signups and claims
virtual assistant, which build offers and understand competition bids
a bot which answers customers' questions 24/7/365
a graph which stitches unrelated facts to prevent frauds
early detection of catastrophes using NASA satellite data
Related reading: Artificial Intelligence in retail innovation, by Amazon – check this article to learn how Amazon implemented Artificial Intelligence.
Lemonade was born with Machine Learning
When issuing policies, Lemonade employs big data to predict risks and quantify losses by segmenting the customer in a risk group and thereby quoting a relevant premium. These groups of customers share similar risk behaviors. They are compiled by AI algorithms that gather extensive customer data and monitor loss ratios). The more data accumulates, the better the model is retrained.

Source: Company statements
Maya
Machine Learning powered Maya is a virtual assistant that collects information, provides quotes, and handles the payments. Maya is a powerful bot that makes sure the customer gets paid within 3 minutes and gets insurance within 90 seconds. Maya leverages early detection of catastrophes system to react to developing catastrophes in real-time. The bot automatically blocks areas and alerts Lemonade's human claims team of potential emergencies. Maya also helps the company to notify users of nearby fires and severe weather events as they develop.
Using the advanced CX.ai technology, AI Maya chats with customers to not only get customized, instant answers to difficult questions but helps them make changes to existing policies. The more Maya chats, the smarter it gets as the Machine Learning models are retrained almost daily. Maya is fueled by NLP (Natural Language Processing) and NAS (Natural Action Synthesis).
Jim
Jim is the Machine Learning driven bot, and he is the bumper man. The "first notice of loss" for 96% of claims, and he is capable of managing the entire claims process without any human involvement. In 2019, Jim conducted ~20,000 claims and paid out ~$2.5 million with no human commitment.
The ML algorithms powering AI Jim can read the nature of claims, their severity, and whether the customer is in a state of emergency. AI Jim also investigates the likelihood of a claim being dishonest. The bot even pushes people to be more honest by combining years of behavioral economics research into every tiny detail in the conversation.
[elementor-template id="3798″]
AI-powered Jim follows loads of user-generated data-points, identifies a questionable activity, and predicts what customers need before they ask for it. It tracks 3.7 million signals averagely.
Lemonade understands that smart as algorithms may be, they aren't always flawless. This is why the company only leverages algorithms to reach one decision: should a claim be handled automatically or not?
Take our Machine Learning algorithms with you
Lemonade insurance can be integrated beautifully into any app or website. If you are eCommerce, real estate, smart home, a security company, or want to be a broker, your company can get a piece of code, and paste it into the app. Since then, Maya will help your users get insured in seconds.
The integration allows visitors of other websites to buy insurance on top of their primary purchase. Want to insure that new MacBook? Lemonade makes it possible. Maya and Jim will take over the process. Both did it a hundred times.
Lemonade says companies that integrate its API into their apps and websites do not have to be licensed as insurance agents. At the same time, the startup reminds that rules may vary by state, and it knows it may have to change its program in some cases as it expands around the country.
What can we learn from Lemonade and its Machine Learning applications?
Artificial Intelligence has the power to unlock entirely new business models.
If a customer spends the better part of the day in an office, try to handle all the repetitive tasks like collecting data, updating investors, composing reports, or sending out purchase orders. Now machine learning with the bot face can handle this.
Future organizations will rely on Artificial Intelligence to run their routine and complex tasks faster, better, and cheaper than employees. Like the impact of driverless cars on logistic chains, the rise of AI in the business world could drive fundamental changes in the way we look at organizational structures, management, and relationships.
Executives and teams that cannot adapt to this AI-fueled reality will become obsolete. While traditional managers will recruit more heads to solve problems, forward thinkers will hire product innovators, super-engineers, and AI/data scientists to build smart tools and automate processes with a predictive flavor.
Chatbots and AI
The bot is responsible for automated claims processing. It means that algorithms handle a substantial number of cases. Think about your company and quickly make a list of repetitive processes in your customer service layer. The list will be your low hanging opportunity for introducing AI-powered bots to your managers.
By hardly ever having to interact with a human, the machine learning-powered bot approach also brings errors to a minimum. The streamlined and automatic process makes sure everything is no more complicated than it has to be at every little step of the way.
Get Amazon Lex, chatbot.com, or SnatchBot and start automating your process today. Run proof of concept and design new business models as the results of lean experimenting.
No to paper filing
Source: Lemonade.com YouTube Channel
In filing a claim, a Lemonade user will be introduced to the opportunity to forego filing out a detailed paper claim—Video recording instead of filling up a form, electronic signature instead of mailing papers.
Every time you see a paper in your business, think voice, video, and signature. You will quickly start embedding top-notch technologies in your process. A mindset change is essential here.
If you don't know where to start, check Valossa, Twillio, or Google. All companies offer read to go solutions which can be easily plotted into your processes.
API
In commerce, online shoppers can insure valuable purchases at check-out. Lemonade value proposition is available through third parties. What is your value proposition, and how can you make it available through partners or suppliers.
Companies like Postman will help your team to design, develop, and test API. Start there with an easy step. Sketch what value you deliver. Maybe you sell trips to Barbados or rent fishing equipment. Your value proposition can be available through API.
Related reading: Uber business model mechanics explained – check this article and learn what is a business model canvas of UBER and why the company might never bring profit.