The company's digital maturity can be defined as follows:
digital maturity is about adapting the organization to compete effectively in an increasingly digital environment. Maturity goes far beyond simply implementing new technology by aligning the company's strategy, workforce, culture, technology, and structure to meet the digital expectations of customers, employees, and partners. Digital maturity is, therefore, a continuous and ongoing process of adaptation to a changing digital landscape. For that reason, we intentionally use the term "maturing" instead of "mature" to describe the most advanced companies we study (source: https://sloanreview.mit.edu/projects/achieving-digital-maturity/)
This post is not a report or quantitive study. It is also not a study supported by empirical research. Please consider it as my subjective proposal of a piece of knowledge. It results from research and projects that I have carried out for large global companies.
Let's start then…..
Many CEOs have a problem with quickly discovering factors that, like a litmus test, give a picture of the maturity of the digital organization.
Reading this post you will find out:
why if the employees do not know and understand who is the client of your corporation, the chances of digital transformation are zero level;
why you should ask to count the project teams in your company and examine their average size;
does it make sense for you to count the automatic processes that are happening in your corporation and compare their number to manual processes;
why without a large amount of Proof of Concept you have low chance for the digital maturity of your corporation;
how budgeting affects failing fast and kill innovative nonsense;
1. Check whether the types of external and internal clients are identified.
The vast majority of digital transformation processes occur in the economy due to the fact that repeatable patterns of customer behavior change. For example, once a natural pattern of human activity was to order a taxi by making a phone call. Today, the pattern of a taxi order is becoming popular through a few clicks in the mobile application. Customer behaviour influences the company's offer.
Similarly in the sphere of employees and co-workers. Patterns of behavior change. Employees, for example, expect the possibility of choosing a place where they work. The model of remote work is becoming popular, which in turn causes that services based on the cloud become more popular.
If digital transformation is to be effective, it should start with the expectations of customers. The matter is hampered by the fact that many of them are not articulated due to the lack of customer knowledge. Let's take an example of OCR technology. If the owner of an accounting office does not know such technology, he will expect from his clients to provide paper documentation, and from employees to rewrite data from paper to a computer. If the same owner understands the benefits of OCR, he will be willing to use such technology. For this reason, the definitions of corporate clients should be know to every employee, but those definitions must be updated frequently. Exhibit 1 shows example of Perona Card that can be collected and accessible to corporate teams.
Exhibit 1.
---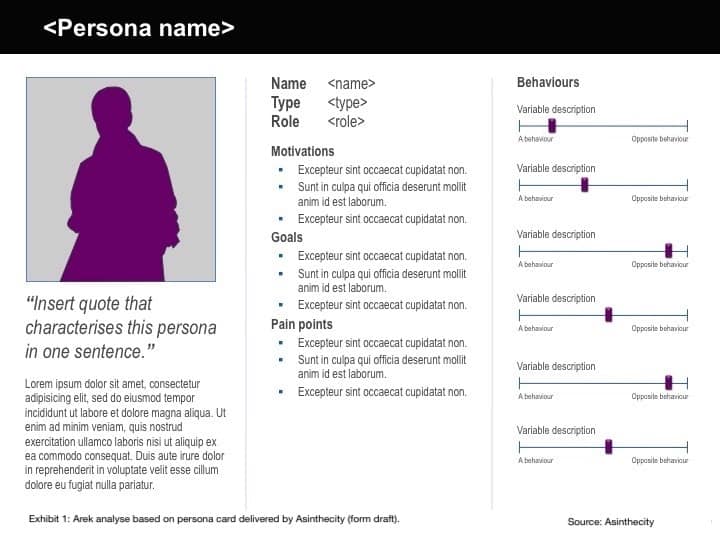 If you are a CEO and want to check how mature your organization is in digitization, ask randomly met employees for a definition of the types of clients that determine the life of your organization. The questions to ask are as follows:
Do we have defined customer types and understand what needs each of these groups declares?
How do we update our knowledge about customers? Do we include new data sources?
How is the knowledge about our clients distributed inside of the organization?
2. Make sure what the average size of the project team in your company is.
Check if there are agile teams in the business unit. Make sure what the average size of the design team in your company is.
Agility means the organization's ability to respond to comments and opinions in real time. Today I have information, today I react, tomorrow I have a new service for the client. Digital transformation requires the corporation to respond to new patterns of customer behavior. Agility ensures that the corporation will be quick to make changes based on information from customers. Agility is achieved if the information we receive about the discovered behavior pattern is verified almost in real time.
Let's assume that truck drivers have suddenly begun searching Google for information on how to protect tires in their trucks from destruction during high temperatures. Such information is an impulse to the corporation. If the corporation quickly reads this information and quickly responds to it, it will overtake competition and address the niche's needs. From such a pattern a new service may be born. This is an impulse that only corporations working in small project teams will use.
---
WOULD YOU LIKE TO LEARN MORE ABOUT "Big Pharma needs startups – case study"
---
Why are small teams so important? Small teams are easy to monitor with entrusted tasks and responsibilities. They are quick in making decisions, because the number of dependencies is smaller than in complex teams. So if their responsibility is to react in real time to impulses, study information and prioritize activities, teams of several people will quickly deliver results (because they will make decisions quickly). In order to verify this area, it is worth checking what the average size of the project team in your company is.
3. Monitor the degree of process automation.
Monitor the degree of process automation (Exhibit 2 shows continuous check of automation maturity). It is important that the degree of automation grows from month to month. Automation of processes is quite obvious. I do not intend to devote a lot of words to this area. Nevertheless, please note that automation requires proactivity.
Man tends to get accustomed to the present state and accept the effort that the process requires of him. For example, a courier in a courier company understands that he needs to grab the steering wheel and press the pedals to get to the customer with the parcel. If it is proactive (properly rewarded proactivity), the courier will want to improve his work. Ideally, he could think "I should stay home and the parcel will take itself to the customer".
Exhibit 2.
---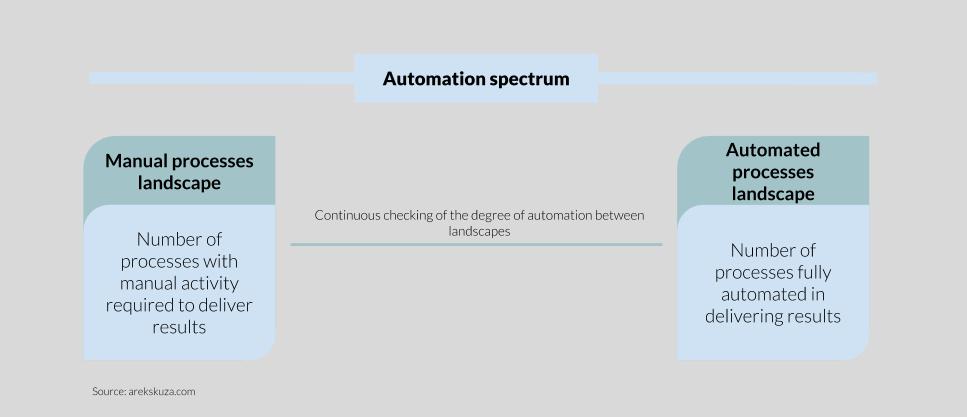 However, proactivity alone is not enough, the courier's idea, just like an impulse from the client, should be quickly assessed and subjected to prioritization by the organization. Then, automation takes place. Measuring the degree of automation is worth being stimulated by the CEO. Automation, in fact, not only gives value through its existence, but also mobilizes employees and customers through joint, proactive effort. In this way, the team's unity and focus on the company's goal are achieved.
4. Check if the Proof of Concept number is growing.
What is Proof of Concept. According to the dictionary, Proof of Concept is a proof, a project concept, a business proposal, etc. is feasible. Proof of Concept therefore provides evidence that something works or does not work. Proof of Concept answers the question whether the examined issue (f.i. cooperation with a specific startups) meets a certain KPI or is likely to implement it.
The basis of every innovation is experimenting. The best proof of this are the activities of selected companies presented on Exhibit 3. The effectiveness of experimenting increases with the increase in the number of experiments from which conclusions are drawn and the appropriate KPIs measured. The digital maturity of the organization can be changed drastically if the number of experiments increases or decreases accordingly. The corporation should not focus on a few experiments. As can be seen on Exhibit 3, the leaders of their industries perform thousands of experiments per year, while trying to achieve economies of scale and reducing the cost of performing a single Proof of Concept.
Exhibit 3.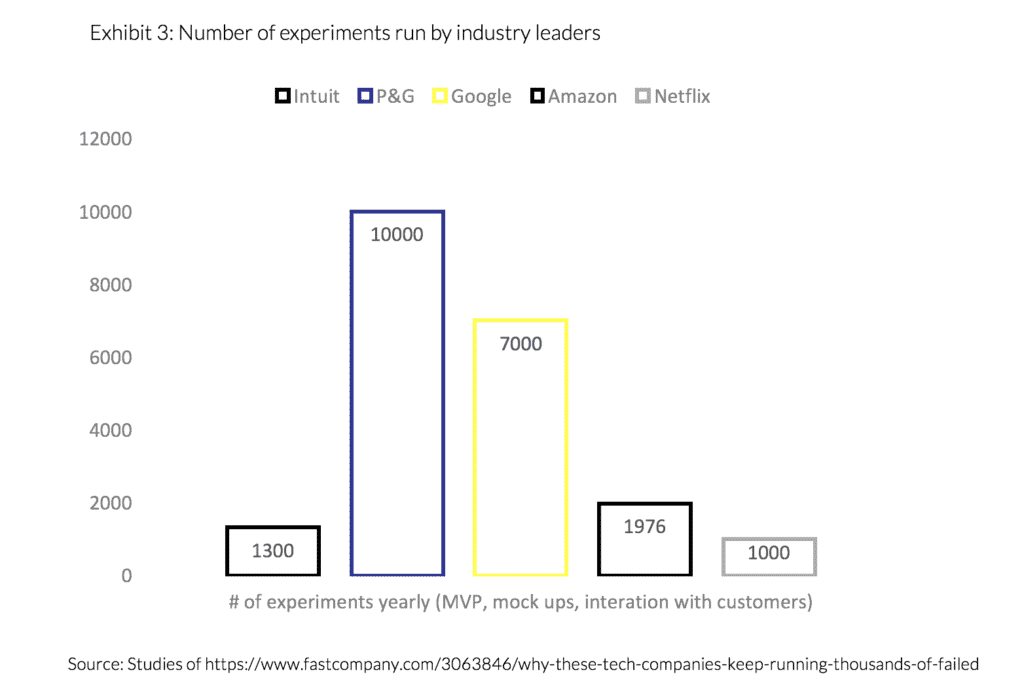 A closer look reveals what some of the actions could CEO take. It is worth paying attention to 3 elements, which increase the chances of increasing the number of Proof of Concepts:
Continuous monitoring of the global innovation market for acquisitions, inspirations or cooperation. Companies such as Shell, UPS, Wallmart and many others carry out continuous scouting. You can compare it to sports scouting. In order to discover a good player, scout travels / research into little-known places to discover talent as soon as possible at the initial stage of development.
Construction of a corporation based on agile teams, dedicated to one responsibility. Such teams are able to quickly execute a pilot with promising technology or a promising process. In other words, faster than the competition, the company is able to check whether the discovered innovator will be able to change the essential KPIs
Evaluating Proof of Concept or examining the victims and the winners makes a huge sense for an organization that wants to discover sustainable innovations.
---
IF YOU WANT MORE POSTS LIKE THIS,

---
5. Check how long the budgeting intervals are.
Check how long the budgeting intervals are. More specifically, check the number of budgets measured in 2 – 4 weeks and verified in 2 – 4 weeks. Financing experiments, adjusting to feedback from customers, maintaining the pace of implementation of innovative projects, can not be closed in the annual budgeting cycles. Why?
Experimenting and piloting are focused on iterations with clients (if corporation plans to be fast). Thanks to this action, problems relevant to the target group are discovered. These problems are the basis for product development, process automation or the creation of a new service. For example, people emigrating to European Union from Ukraine have specific problems related to emigration (renting a flat, obtaining a work permit, insurance, getting access to the Internet to have contact with the family). The discovery of these problems is one element, satisfying these needs of the target group is another.
If a telecommunications company would like to gain a significant market share in such a target group, it would be good if it would develop the service comprehensively. Therefore, the development of the service by iterations with the target group is the basis for a valuable service. The scope of the service changes dynamically. The list of service functions is based on feedback from customers, so the list is dynamic and changes often. Therefore, the scope of the project changes dynamically. As the range dynamically changes, the budget changes dynamically. Annual or semi-annual budgets hamper the organization's digital maturity in at least three ways:
Annual or quarterly budgets lengthen iteration as members of the teams focus on the budget period. Finishing the experiment ahead of time may result in the risk of withdrawing the budget.

Extending the budget line to quarters makes it impossible to build agile projects in which changes in ranges take place in, for example, two-week cycles (2 weeks is claim to be optimal time for agile projects). Then team members do not have the motivation to take pivots and radical changes in projects (including failing fast and killing projects fast).

Financing dubious tasks, which are easier to hide in quarterly budgets. Two-week settlement of tasks and planning them for the next two weeks automatically requires killing threads, the continuation of which does not make sense. Fail fast requires short verification periods if the service or product is valuable to the customer. Verification every quarter or a year gives the comfort of shifting decisions over time and reducing the corporation's chances for a product – market fit.
---
About the author
Arek is a co-founder of K2 Digital Ventures which helps large companies build innovative products and services thanks to cooperation with global innovators. Arek works with senior executives on designing, incubating and scaling innovative initiatives. Clients we have helped: Danone, Shell, Discovery Networks, P&G, LaGardere, Roche, IKEA & more