The use of chatbots and voicebots is changing the landscape of business. They can help with customer service, marketing, and even administrative tasks. This blog post will explore how healthcare institution leaders can use them in the healthcare industry to redesign business models and improve patient care. Chatbots offer a cost-effective way to provide communication 24/7, essential in the healthcare industry. They can also help automate administrative tasks, making the process more efficient.
The use of chatbots and voicebots in healthcare – general perspective.
Chatbots and voicebots can help to redesign business models and improve patient outcomes. Hospitals, emergency units, and doctors' offices can use artificial intelligence (AI) chatbots to provide patients with personalized care, 24/hour access to their health information, and reminders for appointments and medications. Voicebots can also make it easier for patients to schedule appointments and find doctors. With the use of AI, chatbots and voicebots can help to improve patient engagement, reduce costs, and improve outcomes.
There are various purposes for chatbot technology, particularly those more specialized. Unlike the promises of virtual assistants that claim to know everything, these bots are designed for specialized purposes that may be more simply automated. Chatbots and voicebots are relatively new technologies, but investors started to like them. This chart indicates that the chatbot industry is entering its mature years.
There is a prescription for the industry to fight the challenges of continuously increasing expenses, various record-keeping methods, and a perceived lack of patient engagement. Chatbots and voicebots are revolutionizing healthcare by converting issues into opportunities. By making access to information quick and easy and enabling a more personalized and engaging channel of interactions, AI-charged bots are helping healthcare providers deliver their services effectively and bridge the gap with those in need of aid.
How can chatbots help redesign business models?
Chatbots can help healthcare providers redesign their business models in a few ways.
First, they can automate administrative tasks. This can free up time for healthcare providers to see more patients or provide more personalized care. A great example is Suki's voice assistant. Suki's voice assistant is meant for gathering and transcribing notes and conversations with patients on behalf of doctors. The AI automatically fills in Electronic Health Records (EHR) and handles a doctor's data entry, allowing physicians to devote more time to patients. The aim is to improve doctor-patient interactions and decrease physician burnout, frequently linked to excessive administrative labor. Suki says that its technology cuts the time doctors spend taking notes by 76%. According to Suki's data, that extra time translates into a 12% greater volume of patients and a $30,000 yearly revenue boost for a doctor who uses the solution.
Second, chatbots can help improve patient engagement. By providing quick and easy access to information and reminders, chatbots can help patients stay on top of their health. This is especially important for chronic conditions, where patients need to be proactive about managing their health. Wefight is a company that specializes in the development of virtual assistants for patients and their relatives. The company created a chatbot called VIK. Vik is a technology company dedicated to assisting cancer and chronic illness patients and their caregivers by delivering customized text messages. Vik's answers are very diverse, and patients can find all the relevant, quality-checked medical information they need. Vik informs about cancers and other chronic diseases (asthma, depression, headache…), treatments and their side effects, and the quality of life with information about sport, fertility, sexuality, and diet. Reimbursement and patient rights are just a few more practical details available.
Third, chatbots can help reduce costs. By automating tasks and improving patient engagement, chatbots can help healthcare providers save money. Babylon Health trained its chatbot to function as an on-demand symptom checker within the NHS in the UK. The bot successfully triaged 94% of the test patients it was presented to in a validation study and matched expert decisions in 85% of the situations. Another great example that fundamentally changes the business model is Advanced Analytics work. The company worked with OSF HealthCare to test the bot and build standardized processes around gaining approval to use the automation within the EMR.
In the past, employees were tasked with manually going to an insurance company's website daily for updates on approvals or denials to prior authorization or referral submissions. The organization searched for better options to manage this process and reduce the time spent on administrative tasks.
Advanced Analytics was able to quickly design, build, and implement a chatbot that automated this process. The chatbot logs into the insurance company website, search for updates on submissions, and then notifies the employees of any changes.
What's the best way to improve patient engagement?
There are many ways to improve patient engagement, but chatbots and voicebots are two of the most promising technologies. By automating tasks and providing easy access to information, chatbots and voicebots can help patients stay on top of their health. Constant access to health data naturally creates the feedback loop, which is always vivid. The artificial intelligence in chatbots and voicebots can also learn and improve over time, making these technologies more effective as they are used more.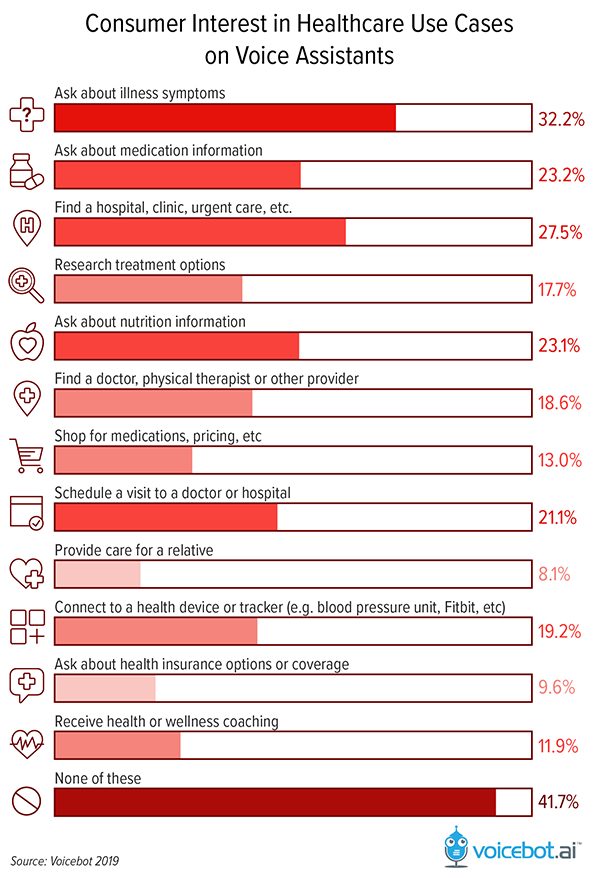 Also, patients want to know more, understand more, and deal with information noise faster. So, chatbots and voicebots can cut through the noise and help patients get the information they need. One of the best ways to cut the noise is to share with customers only what matters. One exciting example is appointment context leverage. Depending on the information delivered to the healthcare unit, bots can trigger the visit from the purpose perspective. Let's imagine that customer achieves a specific BMI level and a diet change is necessary. Voicebot can immediately call the patients, suggest a particular diet, and schedule the visit. Context-based appointment increases customer engagement and ensures the treatment has precision in its DNA.
A fascinating example is Nividous, a software company that provides artificial intelligence solutions. The firm created a chatbot-based solution for a prominent eye care organization with 120 locations in 10 states in the United States. The solution helps the group to manage its business more efficiently, providing a central place for patients to book appointments and ask questions.
Patients can use Chat- and Voice-enabled Nividous RPA Bots to do various tasks, including finding the closest shop and making appointments. The feedback loop is open as customers can constantly share their data, ask for feedback and stay engaged while scheduling appointments, analyzing results, and preparing for the next visit. The company achieved remarkable improvement, more than 50% of visits patients books via chatbots. It helps the eyecare clinics save approximately 35% of FTEs required in call centers and increases process efficiency by 60%.
Conclusion
So there you have it. Redesigning business models in healthcare using chatbots and voicebots is possible and necessary to stay ahead of the curve. With the help of artificial intelligence, these tools can provide a more efficient and effective way to communicate with patients, doctors, and other staff.
Photo by mohamed hassan form PxHere